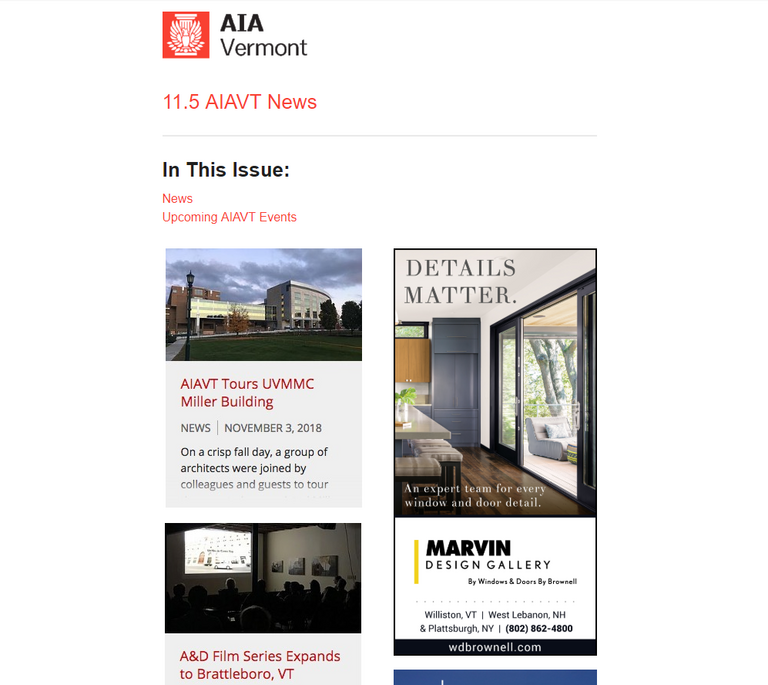 AIA Vermont's communications reach our community of architects, designers, and professionals in related building trades through our website, news stories, e-mail newsletter, as well as through direct interactions via event sponsorships and conference tabling. Learn more about each of these opportunities below:
Web & Newsletter Banner Ads
AIA Vermont's website receives approximately 24,000 visits annually; 15,500 from unique visitors to the site.
Visitor Demographics include AIAVT member architects, designers, and allied members in the construction, engineering, building materials, planning and other related industries— as well as architecture students, policy makers, engineers, planners, developers, and the general public.
AIA Vermont's news stories are published throughout the year on www.aiavt.org/news-events/news at an average of 9 articles per quarter.
The AIA Vermont e-newsletter, AIAVT News, is a digest of these online articles, collected and distributed directly by email to nearly 500 AIAVT members on a quarterly schedule.
In 2018, AIAVT's e-newsletter had an open rate of 48%, compared to the industry average of 21.6%, and a click rate of 28%, compared to the industry average of 2.4%
AIAVT offers Banner Ads featured in both AIAVT's individual news stories as well as in our quarterly e-newsletter.
Sponsored Content News Stories
AIA Vermont offers a limited number of sponsored content news stories per year - just four!
Sponsored Content is designed to be an informational news story that educates readers on an advertiser's product or service
Sponsored Content gives advertisers the opportunity to feature a product or service, and provide a more in-depth description of how it is has been used in projects
Sponsored Content news stories are written by the advertiser, with editorial oversight by AIA Vermont
The sponsored content news story is included in AIAVT News as a story that lives on our website, and runs as an article in the AIAVT Newsletter, an e-mail digest of stories that is emailed to members quarterly.
Event Sponsorships & Conference Tabling
AIA Vermont hosts educational and social events throughout the year to provide opportunities for our members to connect and learn
Event sponsorships provide the opportunity for companies to connect directly with attendees, put your brand front of mind, and even give presentations on your products and services.
For a list of upcoming events, visit www.aiavt.org/news-events/aiavt-events/
AIA Vermont partners annually with the Construction Specification Institute of Vermont (CSI VT) to host the ACX conference, Vermont's Architecture and Construction Expo. This event takes place every spring and offers sponsor and exhibitor opportunities. Visit www.acxvt.com/ to learn more
Request event sponsor information by emailing info@

aiavt.org