---
Innovation and Tradition: The second annual house tours
A crisp, sunny, fall Saturday ushered in the AIAVT's Second Annual House Tour. This year's theme was "Innovation and Tradition", More...
Executive summary of an exemplary presentation
Last Thursday evening's free AIAVT CEU credit presentation by Kairos Shen, the Director of Planning at the Boston Redevelopment Authority (BRA), was well attended and very entertaining. More...
Preservation meets sustainability
In the past several months, chipping away at my Continuing Education requirements, I attended three programs specific to the problems of preserving Modern buildings and incorporating sustainability into these preservation efforts. More...
---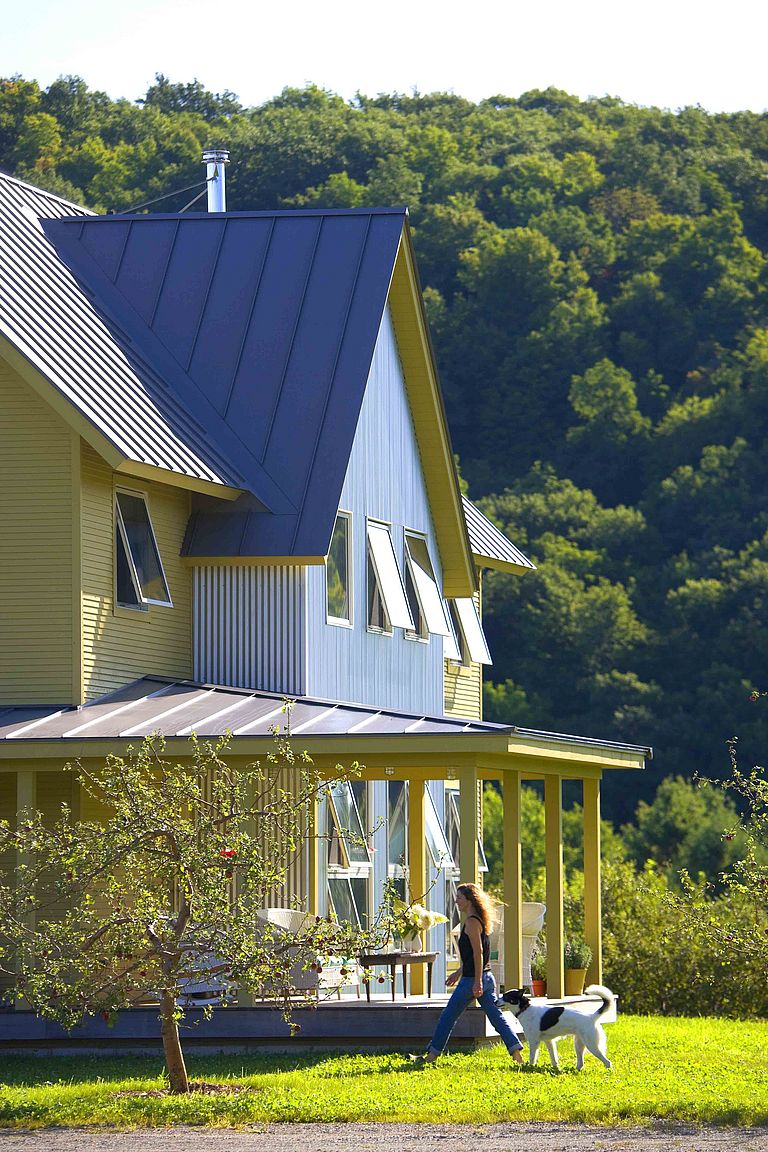 Innovation and Tradition: The second annual house tours
By Kate Bolton

A crisp, sunny, fall Saturday ushered in the AIAVT's Second Annual House Tour. This year's theme was "Innovation and Tradition", two concepts that, while semantically adverse, were beautifully incorporated in the work of participating Vermont architects. As a senior Ecological Design student at UVM, I attended the tour seeking assurance that sustainable, whole systems design is not only a popular academic theme, but a living, prospering reality in New England architecture. Not only was I overwhelmed with evidence to the affirmative, but I realized I was not the only one looking. Around 50 visitors, including students from Middlebury College and Norwich University were also in attendance at the two homes I toured.

My first stop with Executive Director Carol Miklos was The Pill-Maharam Home in Charlotte. As we pulled into the gravel driveway we were greeted by a beautiful garden and the sounds of clucking hens free-ranging in the yard. The house itself was striking with its exterior mix of mustard colored siding and corrugated metal settling harmoniously into the rolling hills. We entered, removed our shoes, and found our feet on a mysterious, beautiful floor, only to discover that it was exposed aggregate concrete, valuable for both its unique aesthetic qualities and its thermal mass. The passive solar design created a fresh, luminous quality and also served as a part of the house's heating system. As I walked around, hoping for an invitation to move in as soon as possible, I was struck by how perfectly the house fit the tour theme. A more traditional farmhouse style was accented with modern bathroom and lighting fixtures. A small woodstove that uses one-third cord of wood annually supplements the wind and geothermal powered radiant heating system. The site was also important to the house design. The land, once the site for a huge horse barn, was overused and degraded and served as a challenging yet rewarding palette for Pill-Maharam's work.

The next home I attended was Truex-Cullins' South Farm House, part of the New South Farm Community. The house had an entirely different design; kitchen and community spaces were on the upper floor with bedrooms and private bathrooms on the lower floor, built into the side of the hill. The walls were alight with cheerful colors delineating the many multi-use spaces designed by the owner. It was south facing, providing lovely interior light as well as roof space for the photovoltaic and solar hot water panels that decorate many houses in the community. Straying from the suggested geothermal pump for heating, the homeowner opted for a high-efficiency wood pellet boiler that serves the radiant heating and domestic hot water. Concrete floors were again showcased on the lower floor and praised highly by the homeowner.

Some of the things that impressed me the most about the houses I viewed were their ingenuity, their refusal to sacrifice the traditional for the innovative and instead seamlessly interwove them to create houses that can beautifully produce their own electricity and heat. As a student it was a study in what is being done and also an inspiration for what is possible going forward. With the worlds of architecture and design evolving around us, Vermont architects are defying conventional definitions and establishing what will surely be a lasting tradition of creative progress. Thank you to all for your hard work and willingness to share your homes.

Kate Bolton is an intern with AIAVT and is a student at UVM's Rubenstein School.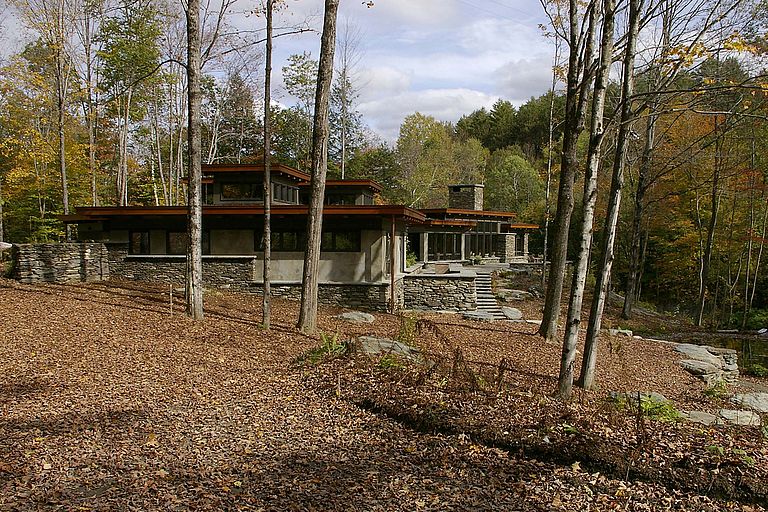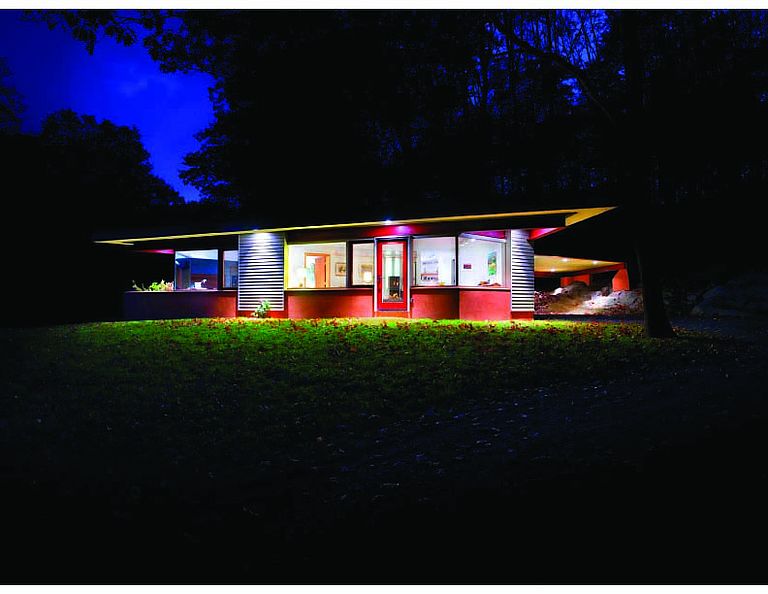 ---
Executive summary of an exemplary presentation
By Shawn Brennan, AIA

Last Thursday evening's free AIAVT CEU credit presentation by Kairos Shen, the Director of Planning at the Boston Redevelopment Authority (BRA), was well attended and very entertaining. Shen held the interest of the design professional and layperson alike through his forthright and often amusing accounts of Boston's urban planning adventures. Topics ranged from the requisite Big Dig synopsis to the effects of the city's urban renewal projects of the 50's and 60's. However, the subject that sparked the most discussion was a fitting complement to this year's AIAVT theme of "Innovation and Tradition": Boston's Innovation District.

Shen has very interesting slides illustrating a technique the BRA uses in which they overlay a map of a portion of the existing, well functioning, Boston urban fabric onto a proposed development plan to evaluate appropriateness. In the example there were three separate overlays of successful Boston regions that illustrated several points as to why a proposal was deemed unsatisfactory.

To be proactive rather than reactive with development the city has created the afore mentioned "Innovation District". Through an incentive program, the city planners are trying to add elements to the city that do not already exist so that the urban fabric isn't a tapestry of repeated franchise retail shops and restaurants. In this district they are requiring that 20% of the land use fulfill the innovation requirement, which is enforced through codes and corporate agreements. The incentive for a developer is that the normal zoning restrictions are loosened if they follow the requirement.

In summarizing his philosophy, Shen stated that he is looking for quality, not style. He cares much less about the expense a developer puts into materials than the expense put into thoughtful design.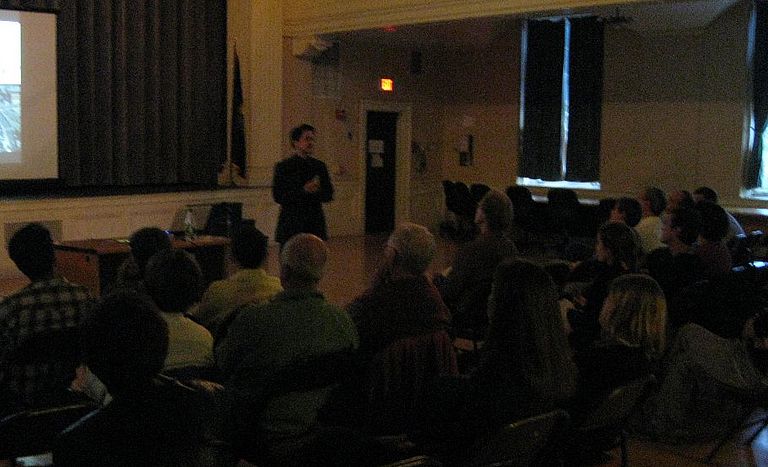 ---
Preservation meets sustainability
By Steven Clark, AIA

In the past several months, chipping away at my Continuing Education requirements, I attended three programs specific to the problems of preserving Modern buildings and incorporating sustainability into these preservation efforts. These programs were very good and well attended. I came away from these events with my personal experience confirmed: This is a difficult area of study.

While modern historic buildings have specific issues related to their technologically driven designs and unique use of primary materials as finishes, all historic and most existing buildings have common issues when trying to measure high performance and sustainability against new construction. When the overall energy consumption of buildings is tabulated by the decade they were built, only buildings constructed in the last two decades consume less energy than pre-World War II buildings. The worst performing buildings were constructed from 1970 – 1999. These were designed around climate-controlled mechanical systems and cheap oil. We will be attempting to fix these buildings for a long time to come.

Traditional historic buildings relied on time tested materials and techniques to create successful designs. Trim and layers of finishes covered most structure. Much of the preservation process is related to preserving and repairing finishes. Traditional roofing usually sheds water by gravity in a way that prevents water penetration even after the materials begin to fail.

Modern buildings incorporated new technologies and new expressions of materials, typically with reveals and sealant joints replacing trim, and expressing materials "honestly." This has made the resolution of weathering issues much more challenging compared to traditional construction techniques. Sealants are a critical component of many recent buildings. Modern roofing, particularly membrane roofing, has a defined lifespan. When the material fails, water penetrates the structure.

A full day CSI program this spring discussed the details of improving the thermal efficiency of older buildings. I concluded there is typically no good way to create a proper, high performance, thermal envelope without compromising the historical features of most older buildings.

Sealing a building is typically the first step toward high performance. Traditional buildings survive because they were not sealed and moisture that invariably leaked in was able to escape. These systems relied on water traveling outward by gravity (shingles, flashings, clapboards, weeps) which addressed water penetration as well as condensation. Adding insulation to these buildings creates problems. Sealing them often requires scientific analysis and the introduction of vapor barriers to prevent serious damage.

Masonry and concrete buildings are particularly difficult. Currently, the best science for thermal insulation says provide a combination thermal/moisture barrier on the exterior where it is easier to maintain continuity. This is not an acceptable or reasonable solution for historic buildings of any age.

If you apply insulation to the interior or stud cavities of these buildings, you usually end up with serious thermal bridging of the envelope. If not carefully analyzed, this can cause condensation damage to the interior and exterior, especially in our climate. The Moran Plant redevelopment on Burlington's waterfront is an excellent example of this issue. Solid masonry and concrete must be tested to make sure the brick and mortar can survive freeze thaw cycles fully wetted since nearly all of this masonry is likely to freeze in the winter.

All the programs focused on the shortcomings of most energy rating programs such as LEED when applied to historic and existing buildings. It can be easily argued that repairing an existing structure in place has far less impact on the environment and expends far less resources than demolishing a building, clearing the site, digging a hole, constructing a new building (including manufacture and transportation of all the raw materials and components), importing new engineered fill and recreating the landscape around it. The construction labor for each is fairly similar. Many different sustainability rating programs were discussed and few give significant credit for rehabilitating existing structures, including historic ones.

Buildings that have functioned for a hundred years, or more, and can be rehabilitated for future use deserve appropriate credit. They seldom require extensive Act 250 and planning board hearings to soothe the fears of surrounding neighbors. Many offer serious advantages in cost alone. Just because it is easier to plan incorporating sprinklers and other needed upgrades into a new design versus a renovation, doesn't always make it less expensive to accomplish.

The practice of replacing historic windows with new, energy efficient windows to save energy has been rejected by preservationists as well as energy auditors as not cost effective. It saves very little energy over good storm windows and takes well over 20 years to recover the cost. No one knows what energy will cost by then.

At a meeting of preservationists including the National Trust for Historic Preservation and the National Park Service preservation plan review director, there was heated discussion between authorities on preservation and developers tasked with both preservation and improved energy efficiency (seeking tax credits). Much animosity centered on the Brattleboro housing project that lost preservation credits this spring after installing solar collectors prominently on the roof. This was a clear violation of preservation guidelines and was not the first such violation for this project. There seemed to be an assumption that doing environmental good should allow some preservation requirements to be waived.

There is no apparent resolution to these mutually exclusive goals other than creating additional sources of tax credits. Preservation is about protecting historic resources to the extent possible, period. Replacement of historic components is only acceptable if the original is deteriorated beyond repair, literally.

Much discussion centered on why these should be relaxed with our current energy and global climate concerns. Concern was also expressed that historic buildings will continue to disappear, especially modern ones designed around cheap energy and untested, state of the art materials. New materials have always been a concern for preservationists as they have no record for durability. Falling Water and the Philip Johnson's Glass House have long, complex histories on this topic. Many discussions on preserving modernist buildings, including these programs, center on how to deal with the bad details and deterioration of inappropriate product use.

The NPS Historic Preservation program has evolved over many years, is based on science and has the inertia of a successful federal program. It should be the responsibility of sustainability programs like LEED to integrate a reasonable value for existing buildings, of all ages, including historic buildings. A justifiable life cycle cost analysis should be required. The current, product driven, sustainability rating systems are good for the relatively small amount of new construction. They were not designed for and don't address the bigger problem of our existing buildings.
---
Custer's last rant
By Shawn Brennan, AIA

This is my last issue as editor of the AIAVT newsletter, and for my last editorial I thought I should tackle a critically important and controversial topic that has been in the news a lot, and yet nothing gets done about it: The weather. No, I don't mean climate change, I mean those frustratingly erroneous weather forecasts. Heavy, cutting edge stuff, I know. Before we dive in, I'd like to take a minute first to say that in this rancorous atmosphere of "I'm always 100% right and you're always 100% wrong, and you're ugly, too", my ridiculous opinion pieces are not meant to be taken very seriously, and the only person truly being made fun of is me.

Now there are probably quite a few of you Architects out there like me that do your own projects around the house. One reason for this is usually self delusion that we can figure out anything that has to do with construction, while another (and primary) is we typically don't have wads of extra cash lying around to pay someone actually qualified to do it for us. Besides, we can figure out anything. I took a day off recently to work on a few of these projects before winter hits (any minute now). This was a strategic day off scheduled according the stormsmacker superdoppleganger accuforecast from the previous afternoon. I wasn't trying to long range plan this thing relying on 10 day weather fortunetelling that predicts temperature based on the number of moose breaking wind in Saskatchewan a fortnight ago. I may sometimes be delusional, but even I wouldn't believe a 10 day forecast.

I'll admit that I can be a we bit anti-technology at times, but the accuracy of this billion dollar satellite technology is dubious when it seems half of the time the words out of the mouth of the smiling Meteorologist are "Partly cloudy with a chance of precipitation". It took decades of rocketry development, ion guns shooting silver atoms, and a room full of NASA engineers tracking space telemetry for this guy to come up with that amazing piece of insight?! Save my tax dollars and buy Mr. Meteorologist a copy of the Farmer's Almanac and we'll compare results. While I'm on the subject of Meteorologists, what exactly does the weather have to do with meteors anyway? It sounds like one step away from Astrology if you ask me, and about as accurate. The forecasters overcompensate for their tarot weather guesses by explaining every little nuance of an impending weather front with barometric this and jet stream that, and don't forget el nino causing a disturbance with the lake effect whatever, but they always end with the words "Partly cloudy with…"

Don't get me wrong, the satellite maps are way cool. Especially when they put them in motion, then layer on the radar color, plus the side scan radar, the pressure zones, again with the jet stream…. I'm fifteen minutes into it and they still haven't gotten to the forecast, but I've seen that nifty radar loop about 20 times already. Maybe they're trying to hypnotize me so I'll believe anything they say. Given this cynicism, it is probably understandable that I don't plan my construction activities too far in advance. Hence my day before plan to get my windows stained. The forecast: Sunny and 70 degrees. I know, but they can't say partly cloudy every day, right? I get up the next day and it is surprisingly cloudy for a sunny day. I turn on the radio and the forecast now says partly cloudy. Well there you go, better late than never. Of course they must mean the part that is cloudy is the sky because there ain't no blue sky to be seen. No problem, 70 degrees is fine with me even without sunshine, so it must be my imagination that it feels like 60 degrees. An hour later the forecast says that it's going to be mostly cloudy today, and I do believe that because it has started to rain, which is making a lovely pattern in my wood stain. Now the forecast on the radio tells me there is a chance of showers in the afternoon, which is a stunning piece of "stick your hand out the window" weather aftcasting.

This experience goes to show that no matter how much money you throw at an issue, in this case predicting the weather (or is it weather events?), there is no guarantee of success. It would be nice to be right half the time, but who am I to judge? There's always tomorrow, and I hear it is supposed to be partly…


---
Get your CEUs here!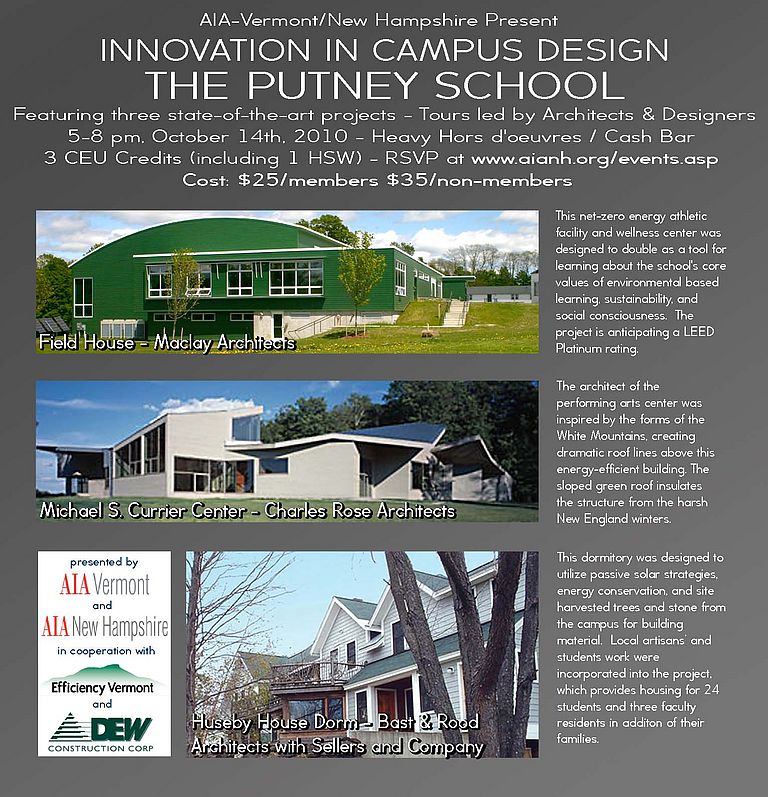 ---
---
News Item - Time for AIAVT awards submissions!
SCHEDULE:
+ Entry form and fees due September 25, 2010
+ Project submissions due October 25, 2010
+ Jury convenes the week of October 30 or November 7, 2010
+ Awards to be presented at the AIA Vermont Annual Meeting in December 2010. All entries will also be displayed in a traveling show during 2010-11.

ELIGIBILITY:
AIA Vermont members, associate members and/or architects registered and residing in Vermont are eligible to submit entries. Projects may be located anywhere in the world and must have been substantially completed since January 1, 2003, except for the specific categories as indicated below. Multiple entries are permissible. All materials included in project submissions must be cleared for public reproduction.

JUDGING CRITERIA:
The Jury will consider projects for awards in the following categories. A project may receive an award in one category only.
1. Older Public Project: For a built public project completed 25 or more years ago.
2. Recent Public Project: For a built public project substantially completed since January I, 2003.
3. New Directions: For a built project design that challenges the imagination.
4. Sustainability: For a built public or private design that exemplifies sustainability in a highly effective blend of aesthetics, function, and durability.
5. Historic Renovation/Preservation: For a built or un-built design that represents an exceptionally sensitive and creative approach to historic renovation/preservation.
6. Interior Architecture: For a built design that emphasizes interior landscape.
7. Architecture as Landscape: For a built design that emphasizes a relationship with the exterior landscape.
8. Small Project: For a built design of less than 1,000 sq. ft. in area or less than $100,000 in construction cost.
9. Proposed Project: For an un-built or proposed project that represents exceptional design value.
10. AIA Vermont Honor Award: For a sustainable project that represents exceptional value beyond a single category and is worthy of special recognition.
Jurors will consider the essential virtues of each submitted project. These values must be made immediately clear and well documented within the submission format. (Special consideration will be given to sustainability across all categories)
Entries will be judged individually, regardless of type.
Entries may be submitted without identifying a specific category or categories. The jury will consider the applicable categories. Any entry may be considered for more than one category, but an entry can receive an award in only one category; jurors may or may not determine that awards are justified in all categories.

FEES:
The fee for AIA Vermont members is $75 per entry; the fee for non-members is $125 per entry. Fees are to be payable to AIA Vermont. Entry fees are non-refundable.

DEADLINES:
+ Entry forms, with fees included, must be post-marked by September 25, 2010.
+ Entry submissions must be post-marked by October 25, 2010.
+ Please send forms and submissions to AIA Vermont, Attention: Carol Miklos, 88 Blackbird Lane, Charlotte, VT 05445.

For additional information go to www.aiavt.org.
---
News Item - A great golf outing
AIAVT wishes to thank all of the wonderful sponsors and participants in this year's golf tournament. Twenty two teams played in this second annual event to support the Hanne B. Williams Scholar Recognition Fund. Look for a full report on the festivities in an upcoming issue of the newsletter.
News item - Another opportunity for recognition
The Vermont Chapter of the American Institute of Architects, The Vermont Urban Forestry Council and The Vermont Section of the American Society of Civil Engineers present:
The 2010/2011 Vermont Public Space Awards
"...to recognize special exterior or interior spaces, accessible to the public, which have been defined or enriched by design or planning, and to recognize regulations which promote positive, public uses..."

This year marks the fifth biannual Award Selection process involving Landscape Architects, Architects, Planners, Professional Engineers, Municipal Officials, Individuals, Non-Profit Groups and Community Groups.

Projects must be located in Vermont. Submissions may range from mature projects in place and in use to conceptual studies, plans, regulations to encourage open space or other endeavors to create, preserve or enhance open space in Vermont.
Submissions may include, but are not limited to open space associated with: Historic Preservation, Community Planning, Recreation Planning & Design, Public Interiors, Campus Planning & Design, Transportation Planning.

Submissions must be received by November 1, 2010.

Questions about the 2010/2011 Vermont Public Space awards can be e- mailed to Claire Humber, chumber@ segroup.com or Jim Donovan, jdonovan@ gmavt.net.


---
News Item - Design competition
By Mo Gagnon, AIA
YAF Regional Liaison – New England

In years past, AIANH and the NH Young Architects Forum have sponsored a design competition. For interns and young architects, the competition provides an opportunity to strengthen design skills, gain recognition and assist a local institution or organization with a real need. It has proven to be beneficial on many levels.

This year, we have decided to expand the competition to all of New England. AIANH & the NH Young Architects Forum announces a design competition for a new Architecture / Engineering Building on the NHTI New Hampshire Technical Institute) campus. The competition is open to all architectural interns and architects within five years of registration living or working in New England. Participants do not need to be members of AIA. This competition is also being posted on Archinet and on Death by Architecture websites.

The link below lists all the information needed to participate. Please pass this along to other young architects and interns on your chapter to get the word out.

www.aianhyac.com
---
---
The aiaVT newsletter is published by AIA Vermont, the Vermont Chapter of the American Institute of Architects.
Executive Director:
Carol Miklos
88 Blackbird Lane
Charlotte, VT 05445
p 802.425.6162
f 802.425.6165
aiaVT is edited by Shawn Brennan, AIA.
Published views are the author's and not necessarily the views of AIA Vermont or any other organization.
AIA Vermont reserves the right to edit articles for available space and determine appropriate content prior to inclusion. Submissions must be received by the 15th of the month prior to publication.
Please send articles, notices, letters, and graphic submissions to:
Shawn Brennan, AIA
Freeman French Freeman, Inc.
81 Maple Street
Burlington, Vermont 05401
802-864-6844
sbrennan@ fffinc.com