---
aiaVT President's column - Food for thought
I had planned to write a report on the annual Board Retreat to share a bit of what the board does, but then I saw Food, Inc. last night; More...
See what you missed at the last aiaVT event
If you missed last month's aiaVT event in Montpelier, then here are a few comments about it that might pique your interest... More...
A competition we can win!
All AIA Members & Non-Members - Announcing this year's aiaVT Architectural Photography Competition! More...
A world of architecture
A Guatemalan friend of mine visited Vermont right after I graduated from college and was amazed that we build almost all of our houses out of wood. More...
---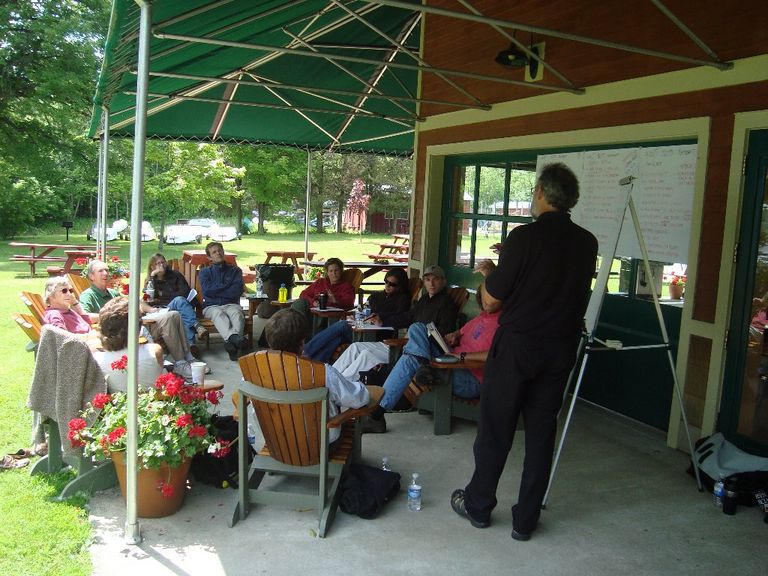 aiaVT President's column - Food for thought
By John McLeod, AIA
I had planned to write a report on the annual Board Retreat to share a bit of what the board does, but then I saw Food, Inc. last night; equally relevant to architecture, and much more interesting to write about…and hopefully to read about.

So let me briefly mention that the aiaVT board meets each June for an all-day retreat at the Lake Champlain Yacht Club to talk about the big picture: What we're doing well and not so well, why we exist as an organization and goals for the coming year. (Note: This undertaking involves Adirondack chairs, coffee and bagels, a backdrop of sailboats and mountains, and a lunch-time cookout—not a bad setting, for those of you who might be interested in joining the board…)

As for the film: I don't know how many of you have seen Food, Inc. or read The Omnivore's Dilemma, Fast Food Nation, and the like, but I find the similarities between our food culture and our architecture culture fascinating. With both, it seems we've realized that many of our 'advances' have in fact been steps backward, or at least sidetracks. Industrial-scale farming with pesticides, chemical fertilizers, and genetic modifications has produced the most abundant, cheapest food ever, but it's made us fat and sick. Similarly widespread development, imitation materials, and shallow stylistic references have cluttered the landscape in many places with flimsy, uninspiring enclosures, ready to be discarded and forgotten almost as quickly as fast food containers. Both systems are more geared toward the individual consumer ("I'm lovin' it") than the community, offering brief satiation rather than sustained nourishment.

With both food and buildings, there is the challenge of up-front costs versus long-term value, and apparent price versus true price. Oftentimes, better food and better buildings cost more in strict out-of-pocket terms, and that's a real issue for the majority of our society. As one family says in Food, Inc., "Sometimes you look at a vegetable and say, 'ok, well, we can get two [fast food] hamburgers for the same price.'" The problem with both cheap food and cheap buildings is that they usually do not reflect their true cost, to society and the environment.
Fortunately, more and more people are recognizing that artificial ingredients, oversized portions, and disregard for nature generally do not make good food, or good buildings. The funny thing is, with both farming and building, so many of our current efforts to get back on track are really a return to doing things as they were traditionally done: Accepting and working with nature; using resources wisely and sparingly; handing down collective knowledge; valuing community and respecting others. Desmond Tutu and Nelson Mandela have both talked about the concept of 'ubuntu': "[We] are connected and what you do affects the whole world" (Tutu) and "Ubuntu does not mean that people should not address themselves. The question…is: are you going to do so in order to enable the community around you to be able to improve?" (Mandela).
The core issue seems to be how we value things—as embodied in our national policies as well as our individual actions. Grass farmer Joel Salatin says in Food, Inc., "Imagine what it would be if, as a national policy, the idea would be to have such nutritionally dense food that people actually felt better, had more energy, and weren't sick as much. Now you see, that's a noble goal." We can just as easily substitute the word "buildings" into that statement.

I hope everyone's enjoying the summer.


---
See what you missed at the last aiaVT event
Modern architecture in Vermont: A roundtable discussion with designers builders and teachers
Panel members:
Marcel Beaudin, AIA
Gregg Gossens, AIA
Alex Carver & Chris North, Northern Timbers Construction
Wendy Cox, Norwich University
John McLeod, aiaVT President and moderator for the event

If you missed last month's aiaVT event in Montpelier, then here are a few comments about it that might pique your interest enough to make you not want to miss our next event. David Boehm, PE, of Engineering Ventures said "The panel was a really good mix – different viewpoints from different perspectives and experiences - from Marcel's 50 years of private practice to some current practical to get the thinking going. The audience participation then was quite lively…" "…I enjoyed staying for the whole thing. I look forward to another such event."

The perspective from the front of the room was equally as good, as noted by the moderator John McLeod, AIA. He commented that the turnout was great, with a good mix of design professionals and general public, plus some students. He, along with many of the attendees, thought it was great to have builders on the panel. They contributed a lot, and a number of the questions, from both design professionals and general public, were directed to them. John was pleased that "Two members of the audience got into an interesting, ongoing conversation about traditional vs. modern architecture, which threaded its way throughout the evening."

The next aiaVT event will be a Modern House Tour so make sure to mark you calendars when the announcement comes out.


---
A competition we can actually win!
All AIA Members & Non-Members - Announcing this year's aiaVT Architectural Photography Competition! Don't miss out! Be a sponsor and have your firm's logo advertised!

The deadline is Friday, September 4, 2009.

The top 13 images will be exhibited as part of the aiaVT annual awards show and will be featured in the 2010 aiaVT Calendar. Our calendar will have an 8 ½ x 11 horizontal format. A complimentary calendar will be provided to each entrant whose image(s) are selected.

The entry deadline is Friday, September 4, 2009 (postmarked).

Eligibility
The competition is open to everyone.
Judges
Entries to be judged by a selected jury.

Conditions of Entry
1. Submissions will be judged based on photographic interpretation of the subject matter. The photographs must have an architectural theme incorporating Vermont or some element of the manmade environment in Vermont.
2. Image Entry Requirements: (All images will be submitted in digital and printed format)
Digital Requirements:
File Size - Each image size must not exceed 25 MB.
Resolution - Each image should be at least 3000 pixels in its horizontal dimension.
File Format - Each image must be submitted in either JPG or TIFF format.
File Naming - Each image title must be included in the file name (please limit the title to the first twenty letters of the title). File names should not include punctuation. Image name must include the extension of .JPG or .TIFF.
Entry Delivery - Each entry may contain up to 5 images. Each entry (of up to 5 images) must be burned onto a compact disk with entrant's name written on the disk, (readable by windows). Multiple entries require multiple disks.
Print Requirements:
Size – 8" X 10" landscape view.
Color or black & white.
Paper - Of your choice.
3. Entries must have been exposed by, and be owned by, the entrant.
4. Images previously published, pending publication and/or have been awarded cash prizes in any previous AIA photography competitions are not eligible.
5. Entrants grant aiaVT permission to reproduce submitted images for our 2010 calendar, exhibitions, publications and promotional purposes. Credit will be given to the original photographer whenever an image is reproduced. All reproductions will become the property of aiaVT.
6. The decision of the judges is final on all matters relating to the competition.


---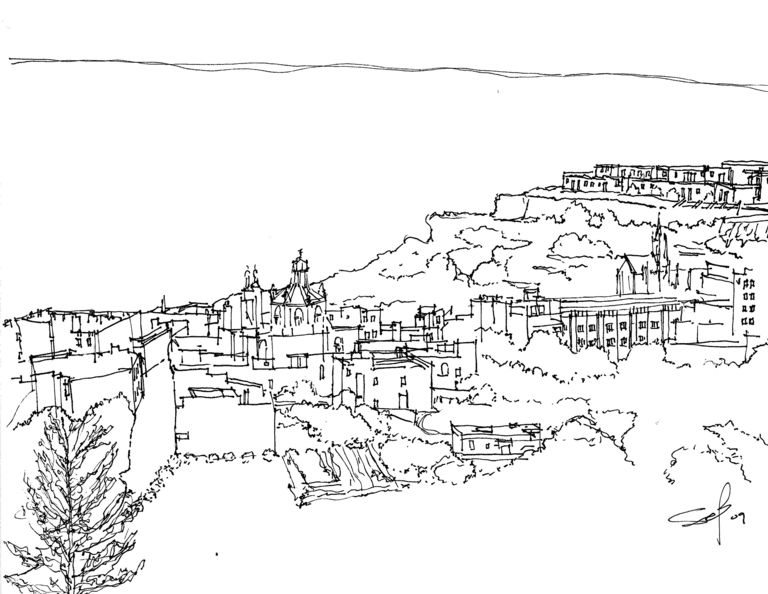 The world of architecture
By Shawn Brennan, AIA
A Guatemalan friend of mine visited Vermont right after I graduated from college and was amazed that we build almost all of our houses out of wood. There was a corresponding amazement at the number of fire departments we have, which stands to reason in light of the first observation. The source of this wonder was the fact that you can virtually watch in real time anything built out of wood in Guatemala being consumed by insects. That was the first time I gave serious thought to how regional construction traditionally is. We have abundant wood resources and a relatively minor tree chomping insect population, so we build our houses out of wood…and we build plenty of fire departments to go with them. I don't travel a great deal, so this regionalism just struck me again during my recent trip to the Maltese Islands.

The nation of Malta is an archipelago located in the center of the Mediterranean just south of Italy. It consists of three islands totaling 122 square miles and has a population of 400,000. The main island is Malta and has an area of 95 square miles. The adjoining islands of Gozo (26 square miles) and Comino (1 square mile) are reached by ferry. Gozo has a small percentage of the population and Comino is uninhabited. I spent two weeks on Gozo and spoke with a local Gozitan Architect about the construction practices there. The first thing I noticed when I flew over the islands was the fact that everything is brown. This was not a case of me failing to see the forest for the trees simply because there are not trees, so you can imagine that there hasn't been a great deal of wood construction. Correspondingly, I can't recall ever seeing a fire truck during my stay, let alone a whole fire department. On a side note, they aren't big on police departments either, as evidenced by the local driving habits. If you're ever there remember that roundabouts mean accelerate, stop signs actually mean "look" not "stop", and keep an eye on the convex mirrors at the corners because you can't see a thing on those tiny streets. Did I mention they drive on the left side of the road? Good luck!

The island of Gozo is a reflection of a bygone era where bakers, fisherman, and grocers travel the streets selling goods right at your front door. If they don't have something you need then it's a quick walk to the shops at the town square. Here's another tip for you: Remember not to walk on the sidewalks because they actually belong to each house they are in front of. Each morning you will see the proud owners fastidiously sweeping their twenty feet of sidewalk. Let me tell you, those sidewalks look good enough to walk on. And everything you need is within walking distance so you don't have to drive everywhere, which was fortunate for me given the aforementioned circumstances. The entire town is one mixed use development, and all of the development is in the town, not sprawled out over the limited countryside. They don't build on green field sites (the term "green" is absolutely figurative in this dry climate), and any development is slow and deliberate since Gozitans tend to spend only the money they have. What a novel concept.

Their construction methods follow the same dense urban pattern it has for centuries. They follow the regional edicts set forth by the local climate and local resources, with the indigenous building material being limestone since prehistoric times. With a hot climate the Gozitans have a tradition of building thick cavity walls of limestone to act as a thermal mass to absorb the brutal daytime heat, which is then radiated back out during the cooler nights. There was usually a central courtyard to allow airflow and light into the interior of the building. The cooking areas were separated from the main part of the house to isolate the heat. These characteristics, along with the high ceilings and through wall vents, helped to keep the buildings cool without mechanical systems. Recent weather changes and the global economy are impacting these ingrained methods; generally for the worse.

Much like many rural areas of Vermont, there are not a lot of career opportunities on Gozo. The cab driver taking me from the airport complained that the lack of opportunity is causing many of the young people to move off of the island, contributing to the aging of the population demographic. There is also a relatively large percentage of alcohol and drug abuse among the younger age groups who have few recreational outlets. With little economic growth and outside influences making their way to Gozo there has also been an affect on the construction techniques. Houses typically are not built with a central courtyard anymore in order to maximize the available space. People are building their walls out of a singe wythe of limestone rather than the traditional cavity walls, thus decreasing the thermal mass and predisposing the structure to moisture problems. Over the past several years the rainy winters have gotten colder than usual, which is responsible for the deaths of a rising number of the elderly since the houses do not have insulation or central heat. The Architect I spoke with was justifiably proud of the house he designed for himself because it had the traditional cavity wall construction, double glazed windows, and two inches of insulation on the roof! This is almost unprecedented construction on the island. Besides that it was just plain gorgeous. At one point there was an entrepreneur on Gozo who started a mechanical contracting company to install central heating systems, but neither the business nor the idea survived his death. I was also told that someone else tried to start an insulating company, but the locals didn't see the value of it since it was never part of their construction methodology.

The current construction practices are leading to some of the same issues we are facing in the more industrialized world. I visited a house built using current building practices such as single wythe walls. The owners recently had to mitigate mold growth on the interior face of the exterior walls, and when I visited there was new mold growth already visible. Cheaper new construction is creating new problems in an old part of the world. Right before I left the island I spoke with an architecture student who has decided to spend a semester at an architecture program in the United States. He wants to learn new construction techniques to help his island deal with these burgeoning problems. I tried to describe some of the building technology he will be facing in his studies in our part of the world. It will be quite foreign to him, but I can see the value of this experience for him. If change in Malta is inevitable, then it makes sense for the Maltese to learn the lessons of others to ensure that the change is beneficial.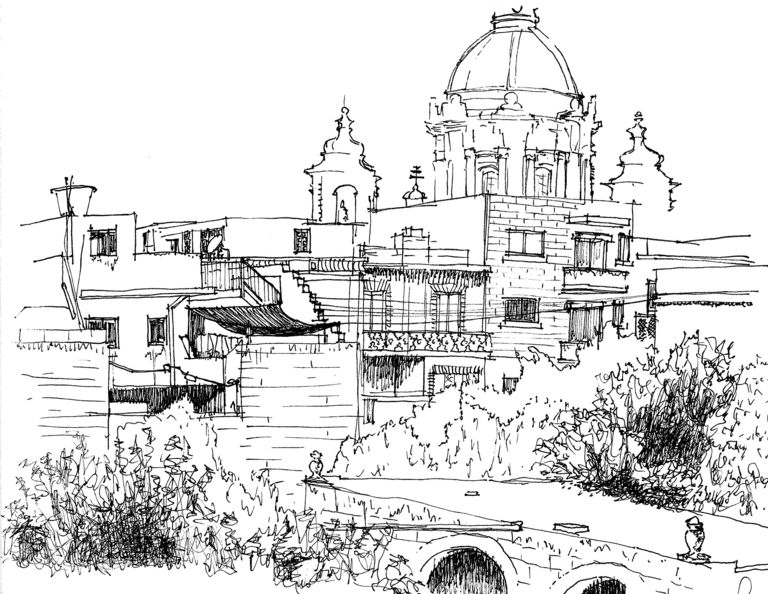 ---
News Item - Official business from Fire Safety
Vermont Fire & Building Safety Code - 2006

Effective date - June 15, 2009

The Vermont Fire & Building Safety Code has been updated effective June 15, 2009. The primary codes adopted include:


+ The Uniform Fire Code, NFPA 1, the 2006 edition
+ The Life Safety Code, NFPA 101, the 2006 edition
+ The International Building Code, IBC, the 2006 edition
+ The National Board Inspection Code, National Board of Boiler & Pressure Vessel Inspectors, 2004

Other major codes & standards include (but not limited to):


+ Standard for Portable Fire Extinguishers, NFPA 10, 2002 edition
+ Standard for the Installation of Sprinkler Systems, NFPA 13, 2002 edition
+ Flammable and Combustible Liquids Code, NFPA 30, 2003 edition
+ Standard for the Installation of Oil-Burning Equipment, NFPA 31, 2001 edition
+ National Fuel Gas Code, NFPA 54, 2006 edition
+ Liquid Petroleum Gas Code, NFPA 58, 2004 edition
+ National Electrical Code, NFPA 70, 2008 edition
+ National Fire Alarm Code, NFPA 72, 2002 edition
+ Standard for the Installation of Air-Conditioning and Ventilating Systems, NFPA 90A, 2002 edition
+ Standard for Ventilation Control and Fire Protection of Commercial Cooking, NFPA 96, 2004 edition
+ Standard for Chimneys, Fireplaces, Vents, and Solid Fuel-Burning appliances, NFPA 211, 2003 edition
+ Explosive Materials Code, NFPA 495, 2006 edition
+ Code for Fire Protection of Historic Structures, NFPA 914, 2001 edition
+ Code for Fireworks Display, NFPA 1123, 2006 edition
+ Code for the Manufacture, Trans., Storage and Retail Sales of fireworks, NFPA 1124, 2006 edition
+Minimum Design Loads for Buildings & Other Structures, ASCE 7, 2005 edition

During the transition period for the new code, a construction project that has obtained a construction permit prior to June 15, 2009, or a construction project that is permitted and construction has started by September 15, 2009, is not required to change the construction to meet the new code, provided that the construction meets or exceeds the requirements for existing buildings under the new code.

Work is now underway to provide information and training on the code changes. Additional information on training and the complete text of the new code is available at www.dps.state.vt.us/fire/rules.htm.

Contact Robert Howe or Michael Greenia for additional information at (802) 479-7561.


---
News Item - NCARB IDP changes
AIAKnowledgeNet
July 2009

NCARB Announces Major Improvements to the Intern Development Program

Washington, DC—The National Council of Architectural Registration Boards (NCARB) is updating the Intern Development Program (IDP) requirements to more closely align with the current practice of architecture. The new program requirements, which will be rolled out as "IDP 2.0," will help ensure that interns acquire the comprehensive training that is essential for competent practice and will make reporting experience fundamentally easier.

The changes to the IDP have been developed in response to the 2007 Practice Analysis of Architecture. In April 2007, NCARB invited more than 50,000 architects from across the United States and Canada to participate in this study. A record 9,835 practicing architects responded by completing an extensive electronic survey to identify the tasks, knowledge, and skills that recently licensed architects, practicing independently, need to protect the health, safety, and welfare of the public. The results of this study were used as a basis for IDP 2.0, the most significant update to the IDP since its inception over 30 years ago.

The proposed changes to the IDP offer many benefits to interns by allowing them to complete some of the training requirements during periods of unemployment, expanding the definition of "direct supervision," and simplifying the reporting process. These changes will be rolled out in three phases over the next two years.
News item - aiaVT welcomes...
The Vermont chapter of the American Institute of Architects wishes to welcome our newest members: Alan Benoit, Assoc. AIA of Manchester Center and Philip Wagner, AIA of Bristol.
Announcement - R/UDAT just wasn't enough
AIArchitect
June 26, 2009

SDAT Program Solicits 2010 Proposals

The Center for Communities by Design has announced the release of the 2010 Sustainable Design Assistance Team (SDAT) Request for Proposals. The SDAT program brings together multidisciplinary teams of professionals from across the country to provide a road map for communities seeking to improve their sustainability—as defined by a community's ability to meet the needs of today without reducing the ability of future generations to meet their needs.

The SDAT committee will conduct two rounds of application review through the remainder of 2009 to offer applicants the opportunity to receive an early decision and acceptance by the review committee.

The first round of review will be in September 2009. Committee members will evaluate all applications received by September 18, 2009. Applications received after the first round of review will be assessed in December 2009. Any additional applications received after the second review period will be considered for the 2011 SDAT program. The final deadline to submit proposals for consideration in the 2010 SDAT program is November 13, 2009. Submittals from past successful applicants can be found on the SDAT Communities Web page, which also contains materials generated by SDAT teams such as final reports and presentations.
Announcement - AIA New England conference
AIA New England Annual Conference October 2-4
The 2009 AIA New England Annual Conference, hosted by AIA New Hampshire, will be held October 2-4 in Portsmouth, NH.

The theme for the weekend is "Portsmouth: Past and Present." We will be taking a look at both the historical features of Portsmouth and its current efforts to increase the overall sustainability of the community. Events in the works are a boat ride and lobster dinner, historical walking tours, a tour of the new LEED certified Library, tour of the Music Hall renovation, brunch at Strawbery Banke, a tour of Portwalk (Hard-hat tour), a presentation by Bert Cohen and Peter Britz on Portsmouth's process to become New Hampshire's first eco-municipality, and a presentation by historian Dennis Robinson. An evening reception will take place at the Discover Portsmouth Center where entries in the Awards program will be displayed. The Awards banquet and presentation will take place at the The Pearl, the only historic African-American church structure in the state of New Hampshire.

The AIANE conferences are small, but intimate. Attendees give them high scores for education and all around fun, so mark your calendars now and plan to attend! Programming will be posted on the AIANH and AIANE websites.


---
---
The aiaVT newsletter is published by AIA Vermont, the Vermont Chapter of the American Institute of Architects.
Executive Director: Hanne Williams, Hon. AIAVT
aiavt@ madriver.com
1662 Mill Brook Road
Fayston, Vermont 05673
p 802.496.3761
f 802.496.3294
aiaVT is edited by Shawn Brennan, AIA.
Published views are the author's and not necessarily the views of AIA Vermont or any other organization.
AIA Vermont reserves the right to edit articles for available space and determine appropriate content prior to inclusion. Submissions must be received by the 15th of the month prior to publication.
Please send articles, notices, letters, and graphic submissions to:
Shawn Brennan, AIA
Freeman French Freeman, Inc.
81 Maple Street
Burlington, Vermont 05401
802-864-6844
sbrennan@ fffinc.com