---
Misconstruing the architectural works copyright
For the past several years, I have had the occasion to appear before architectural groups to discuss copyright protection of plans and drawings. More...
Halifax LEED home
Construction is underway for the first LEED (Leadership in Energy and Environmental Design) certified home in Southern Vermont. More...
Build some crazy stuff!
Canstruction
4th Annual AIA Vermont Design/Build Competition
It starts with one can. To feed the hungry. To lift the spirit. To change the world. More...
---
Misconstruing the Architectural Works Copyright
by Andres Quintana, Esq.
For the past several years, I have had the occasion to appear before architectural groups to discuss copyright protection of plans and drawings. At these gatherings, I am repeatedly struck by the number of architects that still do not comprehend the notion and gravity of the "architectural work" copyright. "Architectural work", in copyright parlance, amounts to a consequential legal term routinely applied by judges, lawyers and juries to decide the fate of architects unlucky enough to be embroiled in copyright infringement litigation. More unfortunate, an architect's misunderstanding of the term's legal import may lead to the substantive loss of copyright protection (as what happened to an architect in a recent federal appellate court case). Let me touch upon the very basic concepts.

1. Architects Get Two Copyrights. Since the 1990 enactment of the Architectural Works Copyright Protection Act, architectural plans can obtain copyright protection under two provisions of the Copyright Act. Architectural plans had been protected as "pictorial, graphic, and sculptural works" under the Copyright Act, and continue to fall within that provision. Additionally, architectural plans fall within a new category of copyrightable works called "architectural works." An architect can (and often should) secure registrations for both copyrights.

2. What Exactly Is An "Architectural Work"? The legal definition is a bit daedal: An "architectural work" is "the design of a building as embodied in any tangible medium of expression, including a building, architectural plans, or drawings." The Copyright Act now makes it an infringement to construct a building that copies from another's protectable two- or three-dimensional design. Stated very colloquially, an architect gets to copyright the physical building – the overall shape of two- or three-dimensional works of architecture. While the "pictorial, graphic, and sculptural works" copyright protects the actual plans and drawings, the "architectural work" protects the architect's design in the building itself.

3. Why Two Copyrights? Congress added "architectural work" protection for a number of reasons. Most important, Congress wanted to close a potential loophole in copyright infringement cases. Take the simple case: if an architect copies the plans or drawings of someone else, that's copyright infringement. What if an architect does not copy the plans but instead visits the physical building constructed from those plans, makes some observations, takes pictures, etc., then prepares plans based on that visit. Is that copyright infringement? Before 1990, the answer was no. After the 1990 copyright amendment, the answer is yes since the design embedded in the building itself is now protected.

4. The Architectural Work Copyright Really Matters. First, "architectural works" are generally subject to a standard of copyrightability more generous than that accorded "pictorial, graphic or sculptural works." Second, it closes the liability gap mentioned above. Third, since buildings are generally worth more than the plans themselves, copyright infringement of architectural work means more potential damages for the architect to recover. Based on federal cases from around the country, the recovery related to architectural works can be remarkable.

5. Architectural Work Copyrights Are Easy To Obtain. If an architect seeks registration for an "architectural work," he or she need only submit a separate application indicating the title of the building as well as the month and year when construction was completed. If the building has not yet been constructed, the architect can simply follow the title with the notation "not yet constructed."

Architects should continue to educate themselves on "architectural works" given the complexity of this area of copyright law.


ABOUT THE AUTHOR
Andres Quintana, Esq. is the principal at the Quintana Law Group, APC, an intellectual property firm in Los Angeles County, California. He may be reached at andres@qlglaw.com. For more information about the Quintana Law Group, APC, please visit www.qlglaw.com.
Halifax LEED Home
Construction is underway for the first LEED (Leadership in Energy and Environmental Design) certified home in Southern Vermont.

Architect Robert Swinburne of Halifax VT designed this affordable and energy efficient building that utilizes many local products and green building components. This 2,600 sq.foot home is being built in Halifax VT for under $180, 000 (not including land). Homeowners and General Contractors Mark Gunkel and Laura Philipps expect to earn at least a LEED-Platinum certification in addition to ENERY STAR.

Foard Panel of W. Chesterfield NH has been hired to provide the Structural Insulated Panel (SIP) Wall and Roof system. This enclosure system is an energy efficient alternative to stick frame construction. "Foard Panels offer a very tight shell without the extra fuss of air sealing". Explains Swinburne

Unlike stick frames, SIPs have very minimal heat transfer and often times exceed ENERGY STAR standards for thermal performance. When installed properly, SIPs can reduce fuel bills by 50% and will contribute to a variety of LEED points.

Swinburne incorporated other fuel saving devices to this project including solar hot water, fiberglass framed windows, and the use of a micro-hydro system. By maximizing this home's solar heat gain, and by building a tight shell, Swinburne was able to provide adequate heat supply with a small woodstove and electric backup.

Other unique features include a large pantry which reduces the cost of the kitchen, ample room around the woodstove for drying clothes, a warm weather sleeping porch and a cold cellar for storage of foods from the garden.

Overall, this design reflects the architect's ideals of creating a comfortable, easy to live in home that is small enough to be resource efficient and easy to maintain but with a spacious and flexible plan to allow for a wide range and number of users over the next several generations.

Towards the end of the summer, Swinburne and Foard Panel will host an open house for the community. House tours will provide an overview of the LEED process and the products which contribute to this certification.

Robert Swinburne has been designing homes in New England for 13 years and has recently won the Providence, RI sustainable housing competition in the "affordable" category.

For more information about this project contact Robert Swinburne at (802) 257-9513 – www.swinburnearchitect.com or Foard Panel at 800-644-8885 – www.foardpanel.com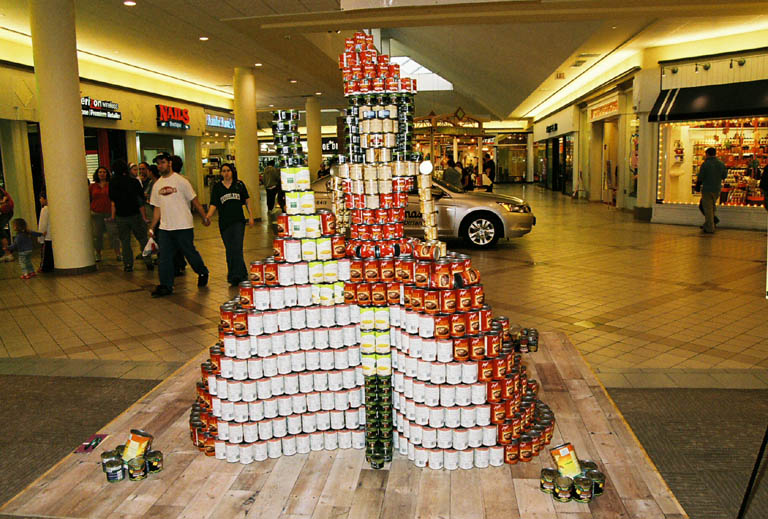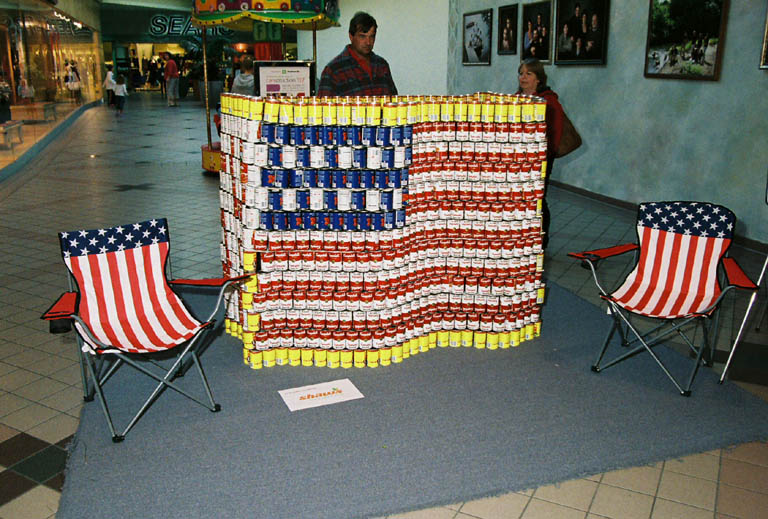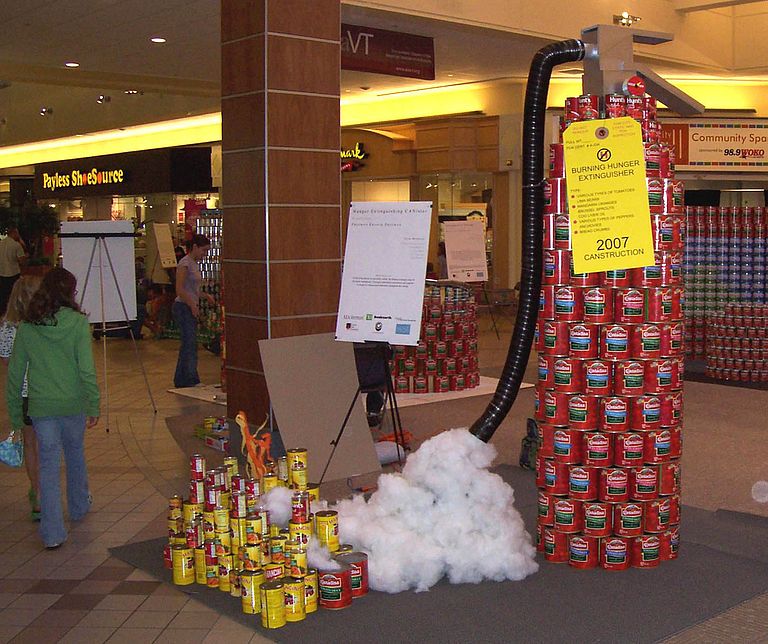 Build some crazy stuff!
Canstruction
4th Annual AIA Vermont Design/Build Competition
It starts with one can. To feed the hungry. To lift the spirit. To change the world. Canstruction®, a charity committed to ending hunger,
is using 'one can' as a catalyst for change. Canstruction's 4th Annual Vermont Design/Build Competition puts a visual spotlight on hunger
while showcasing the Vermont design community's best and brightest.
Think you have what it takes to design and build a structure made of nothing more than canned food, ingenuity, and luck?
Enter today. Get creative, help stop hunger. one can.
call for entries
Who: Teams of Vermont Architects, Engineers, Contractors,
Designers and Students of all ages are encouraged to
participate. (At least one member of the team must be a
registered Architect, or design professional.)
What: Design & build structures made entirely from
canned foods within a 10'x10'x8'h space.
When: August 1 Deadline for Entry
August 11, 3pm Site Visit, Q&A,
University Mall
October 17 Canned food delivered to
University Mall (before 9:30am)
October 17 Build-Out afternoon & evening
October 18 Open to the public & judging
October 18, 6pm Awards Ceremony
October 19 Decanstruction
Where: University Mall, Burlington, Vermont
Why: To benefit the Vermont Foodbank
How: Complete entry form , Entry fee $25.00
Make check payable to "AIA VT"
Mail to: AIA Vermont, 1662 Mill Brook Road, Fayston, VT 05673
Complete rules and regulations will be emailed upon receipt of entry form.
Teams are responsible for acquiring canned food.
Assistance is available, please call AIA Vermont (802) 496-3761.
Last call for AIA New England awards entries
Last Call!
Call for Entries--AIA New England Design Awards Program
And Annual Conference

This design awards program recognizes and honors excellence in
architectural design by all New England resident architects, and
by architects throughout the world who wish to submit their
projects located in New England. (New England includes Maine,
NH, VT, MA, RI, CT)
This year the Maine Chapter of the AIA is honored to host the AIA New England Design
Awards and Annual Conference.
• Place: Portland, Maine
• Date: Friday, October 3 to Sunday October 5
Juried Design Awards will be presented at the Conference Awards Ceremony on
Saturday evening, October 4.

ELIGIBILITY
• Structures or buildings (or groups of either) of any size and any project type (including
rehabs, interior architecture, monuments, etc.) built anywhere in the world by New
England architects are eligible.
• In addition, any architect anywhere in the world is eligible to submit their projects built in
New England.
• Eligible Associate AIA members and other unlicensed architecture graduates may submit
projects that do not require the stamp of a licensed professional.
• Projects must have been completed after January 1, 2001.
• Projects that have been honored in the AIA New England Design Awards program in past
years are not eligible.
• Any eligible architect or architecture firm may submit any number of eligible entries
provided each is submitted separately with the appropriate fee.
• Work by the firms of design professionals serving as jurors this year is not eligible.

CRITERION
The sole judging criterion is design excellence. The jury is empowered to determine the extent to
which design excellence is informed by the aesthetic, functional, contextual, social or other
characteristics. The jury may elect to honor projects by building type or other category or may
choose to make no such distinctions.

DEADLINE
The deadline for receipt of submissions is July 31, 2008 by 4:00 p.m.

Questions? Email Judith Harvie at jharvie@roadrunner.com
aiaVT Photo Contest
2008 aiaVT Architectural
Photography Competition

Prospectus
aiaVT presents the 2008 aiaVT Photography Competition. The top 13 images will be exhibited as part of the aiaVT annual awards show and will be featured in the 2009 aiaVT Calendar. Our calendar will have an 8 ½ x 11 horizontal format. A complimentary calendar will be provided to each entrant whose image(s) are selected.

Entry deadline is September 12, 2008 (postmarked).

Eligibility
The competition is open to everyone.

Judges
Entries to be judged by a selected jury.

Conditions of Entry
1. Submissions will be judged based on photographic interpretation of the subject matter. The photographs must have an architectural theme incorporating Vermont or some element of the manmade environment in Vermont.
2. Image Entry Requirements: (All images will be submitted in digital and printed format)
Digital Requirements:
File Size - Each image size must not exceed 25 MB.
Resolution - Each image should be at least 3000 pixels in its horizontal dimension.
File Format - Each image must be submitted in either JPG or TIFF format.
File Naming - Each image title must be included in the file name (please limit the title to the first twenty letters of the title). File names should not include punctuation. Image name must include the extension of .JPG or .TIFF.
Entry Delivery - Each entry may contain up to 5 images. Each entry (of up to 5 images) must be burned onto a compact disk with entrant's name written on the disk, (readable by windows). Multiple entries require multiple disks.
Print Requirements:
Size – 8" X 10" landscape view.
Color or black & white.
Paper - Of your choice.
3. Entries must have been exposed by, and be owned by, the entrant.
4. Images previously published, pending publication and/or have been awarded cash prizes in any previous AIA photography competitions are not eligible.
5. Entrants grant aiaVT permission to reproduce submitted images for our 2009 calendar, exhibitions, publications and promotional purposes. Credit will be given to the original photographer whenever an image is reproduced. All reproductions will become the property of aiaVT.
6. The decision of the judges is final on all matters relating to the competition.
7. Entries must be postmarked no later than September 12, 2008 and must include:
a. A compact disk with up to five (5) digital images burned onto it.
b. An 8x10 print of each image.
c. Completed entry form in hard copy.
d. Entry fee (check or money order) made payable to: aiaVT.
Note: All above submitted materials will not be returned.
8. Entry fees:
AIA & Assoc. members = $30.00.
AIAS members = $15.00.
Non-members = $50.00.
Entrants may submit up to five (5) images with each entry fee. Each entry requires a separate entry form; one check is acceptable. Entrants may enter as many times as desired. Please contact aiaVT for membership information via www.aiaVT.org.
Mail or deliver all entries to: aiaVT, 1662 Millbrook Road, Fayston, VT 05673
9. The entry fee is non-refundable and must accompany the entries.
10. Submission of image(s) implies entrant's acceptance of all of the above conditions. To verify receipt of your entries, we suggest you ship registered mail or use a private shipping company.
11. Questions? Call aiaVT at (802) 496-3761 or email questions to Hanne Williams at aiaVT@madriver.com.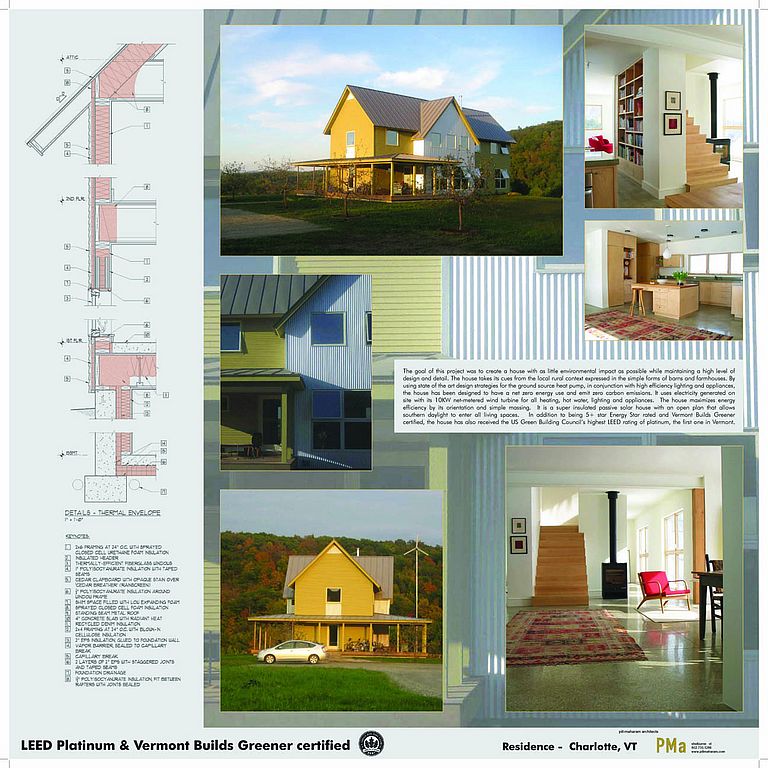 ---
Announcement - "Vermont Neighborhoods Program"
This past year, the state of Vermont approved the "Vermont Neighborhoods Program". The new program continues the state's support of development policies that are consistent with Vermont's historic development patterns specifically compact settlements separated by rural landscapes. The program provides incentives for new housing developments in and around designated downtowns, village centers, new town centers, and growth centers.

AIA Vermont is in the process of forming the AIA Vermont Neighborhoods Task Force. The goal of the task force will be to better understand the design implications of this new program and to explore how higher density design solutions can enhance Vermont's unique sense of place. The task force will convene in a Charrette type format on three separate occasions between August 2008 and October 2008. Findings will be presented in collaboration with Smart Growth Vermont at the Vermont Housing & Finance Agency's bi-annual conference to be held in November. Any AIA Vermont members interested in participating on the task force should contact Hanne Williams at aiavt@madriver.com.
---
News Item - Changes for Greenbuild Boston
USGBC Chapter Newsletter June 2008

The Greenbuild International Conference & Expo has experienced tremendous growth since its inception in 2002. If you were with us last year in Chicago, you saw firsthand the overflowing crowds at President Clinton's opening plenary session, many of the educational sessions, and at the registration desk. We were thrilled that so many people chose to spend those days with us, but we shared your frustration over the long lines and many sold out sessions. For this year's Greenbuild in Boston, we have resolved to make wholesale changes that will create a smoother, more predictable, and richer experience.

Greenbuild 2008 promises to be a transformative event for green building. With the theme "Revolutionary Green: Innovations for Global Sustainability," you can be assured that the ideas generated and conversations started will be with us for years to come. We hope you'll join us in Boston, November 19-21.
Announcement - aiaVT Golf!
First Annual AIA Vermont Golf Tournament to benefit AIA Vermont's scholarship programs.
To be held at Country Club of Vermont
Country Club & golf course located at 2800 Country Club Road Waterbury Center, VT
Tournament Information
Date: Wednesday, Sept. 10, 2008
Time: 11:30 a.m. Registration
Shotgun start at 1:00 p.m.
Dinner/Awards Ceremony to follow
Format: 18 Hole Scramble
Cost: $150.00 per person or
$550.00 per team of four
Fee Includes: Green Fees & Cart, Box Lunch,
BBQ Dinner, Gift Bags.
Entry Deadline: August 30, 2008
Register Early, number of players is limited.
Questions? Contact:
Joe Greene: joe@josepharchitects.com; 802-244-5220
News item - aiaVT welcomes...
The Vermont chapter of the American Institute of Architects wishes to welcome our newest members: Martin Hawkes, P.A., Bristol; Mike Solari, P.A., Pittsford; Kevin Spaulding, P.A., Barre and Kenneth Tichacek, Assoc. AIA, Salisbury.
We would also like to congratulate Maura O'Dea, AIA, on her up-grade from Associate AIA.
News Item - DOJ proposed revisions to ADA regulations
The Angle
VOLUME 6 | ISSUE 15 | July 3, 2008

The U.S. Department of Justice (DOJ) recently announced a notice of proposed rulemaking to update and revise the federal regulations that will implement new and revised rules for Titles II and III of the Americans with Disabilities Act (ADA). The proposed rulemaking specifically deals with regulations concerning state and local government services, public accommodations, and commercial facilities. Once enacted, these rulemakings will represent the most sweeping change to federal ADA regulation implementation and enforcement since 1991.

The AIA provided comments on several very specific questions regarding how the 2004 Access Boards draft of the new guidelines should be implemented when the DOJ issued it's advanced noticed of proposed rulemaking in 2003. Since that time, the AIA, along with many other advocacy groups, has been awaiting DOJ's announcement and the release of the proposed rulemaking. The same task group that compiled the AIA's original comments will again be reviewing these rules and preparing comments back to DOJ before the August 18 deadline.
All AIA members are invited to review the rules and to make their comments to this group prior to July 21, 2008. You may submit such comments or obtain additional information regarding the proposed rules and the work of the task group by contacting the AIA Federal Relations staff.
---
News Items - Fire safety
State o f Vermont Department of Public Safety
Division of Fire Safety
Fire Safety News
June 2008

Photoelectric smoke alarms, senate bill S226, passed and requires that single-family
owner occupied homes have a photoelectric smoke detector on each floor and outside
any bedrooms. Combination photoelectric and ionization smoke detectors cannot be
used as an alternative for these locations because of the false alarms that are more
common with ionization. People disarm the detectors.

The governor put $2.5 million in the budget for the fire academy at Pittsford, but the
final amount approved is $2 million. The square footage of the new building will be
reduced to meet the budget. We expect to break ground on this project this fall.

The legislators approved $240,000 to match the $406,000 the Vermont Technical
College is receiving from federal money for a new burn facility. This project must be
complete no later then December 31, 2008 and is moving forward at this time.
News Item - NCARB approves 6 month rule
The Angle - July 3, 2008

After much discussion, the National Council of Architectural Registration Boards (NCARB) voted last weekend to adopt Resolution 2008-07, commonly known as the "six-month rule." This rule will require mandatory reporting of IDP training units every six months. Under this new rule, training that is not reported within that time period, will begin to expire on the basis of a rolling clock.

Key Points of Resolution 2008-7: Reporting Requirement for IDP Training Units (Six-Month Rule)

* Effective July 1, 2009, or later for new record holders (as detailed in the resolution)
* Effective July 1, 2010, or later for current record holders--those that establish an NCARB record before July 1, 2009 (as detailed in the resolution)
* The extension to the six-month reporting period for parents adopting or having a child was changed from three months to six months.

It is important to note that the required six month reporting period is linked to the successful implementation of NCARB's Online IDP Reporting System. Therefore, the exact timeline and phasing of these new rules are currently unknown. The AIA is currently developing strategies to help ensure a smooth transition to this regulated reporting period.

The final resolution language that was adopted by the NCARB member boards, as well as the other approved resolutions, can be found on the NCARB Web site.
The aiaVT newsletter is published by AIA Vermont, the Vermont Chapter of the American Institute of Architects.
Executive Director: Hanne Williams, Hon. AIAVT
aiavt@ madriver.com
1662 Mill Brook Road
Fayston, Vermont 05673
p 802.496.3761
f 802.496.3294
aiaVT is edited by Shawn Brennan, AIA.
Published views are the author's and not necessarily the views of AIA Vermont or any other organization.
AIA Vermont reserves the right to edit articles for available space and determine appropriate content prior to inclusion. Submissions must be received by the 15th of the month prior to publication.
Please send articles, notices, letters, and graphic submissions to:
Shawn Brennan, AIA
Freeman French Freeman, Inc.
81 Maple Street
Burlington, Vermont 05401
802-864-6844