---
Norwich University talent on display
The Board of aiaVT was once again given the privilege of reviewing abbreviated displays of the thesis projects for the Norwich University architecture program. More...
"Innovation in Context"
There was a very enjoyable and educational presentation at Contois Auditorium located in Burlington City Hall. More...
Who is qualified to be an Architect?
Regardless of how the editor feels about a topic, the newsletter should always attempt to present divergent perspectives on issues involving Architecture and Architects. More...
---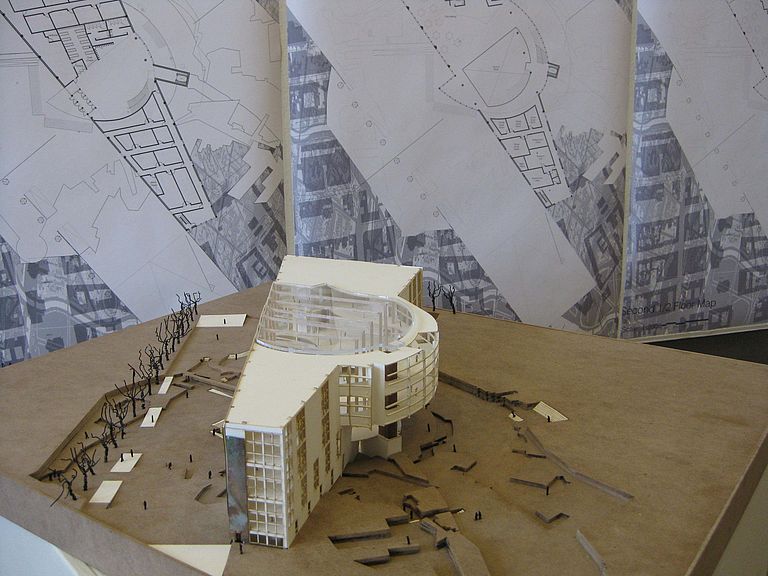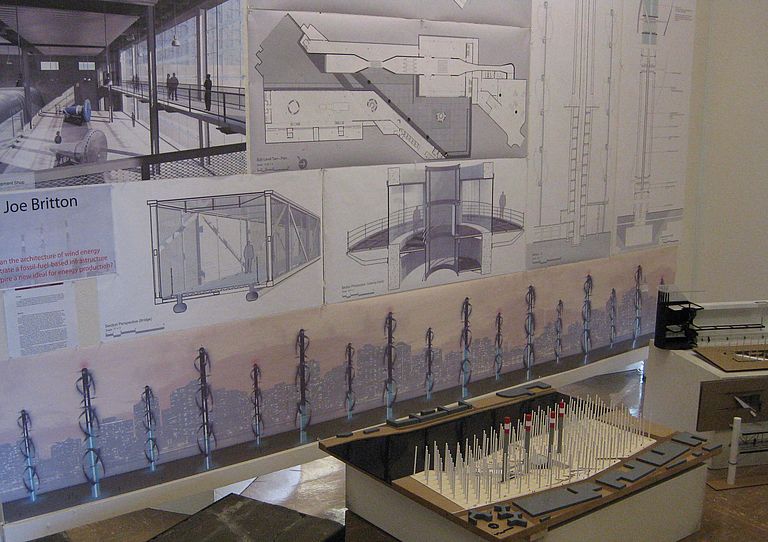 Norwich University talent on display
The Board of aiaVT was once again given the privilege of reviewing abbreviated displays of the thesis projects for the Norwich University architecture program. There were 16 projects to judge in order to determine the "Best in Show". The Board commented on the high quality of the students' work, and it took several rounds of voting to narrow it down to the four finalists. It turned into a very lively debate, resulting in two projects being selected as "Best in Show" for very different reasons. Let's see if you agree that these projects merit selection, and if you can determine why it was difficult for the Board to chose between them. Intriguing images of some of the non-winning thesis projects are included in order to convey the breadth of talent on display.
Meredith Hankins
"A Reconnecting Journey" (project located adjacent to the Appalachian Trail)
Thesis Premise:
Many people in today's urban environments have lost a connection with the natural world. Backpacking provides opportunities for people to reconnect with nature and assist individuals in finding themselves and exploring new boundaries.
Thesis Question:
How can architecture educate backpackers and urban dwellers to have less negative impact on the earth, while encouraging them to reconnect to the natural world?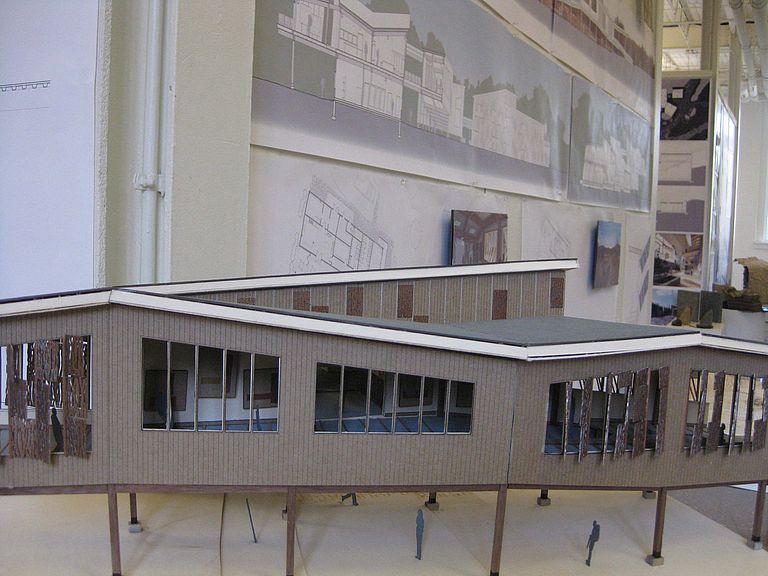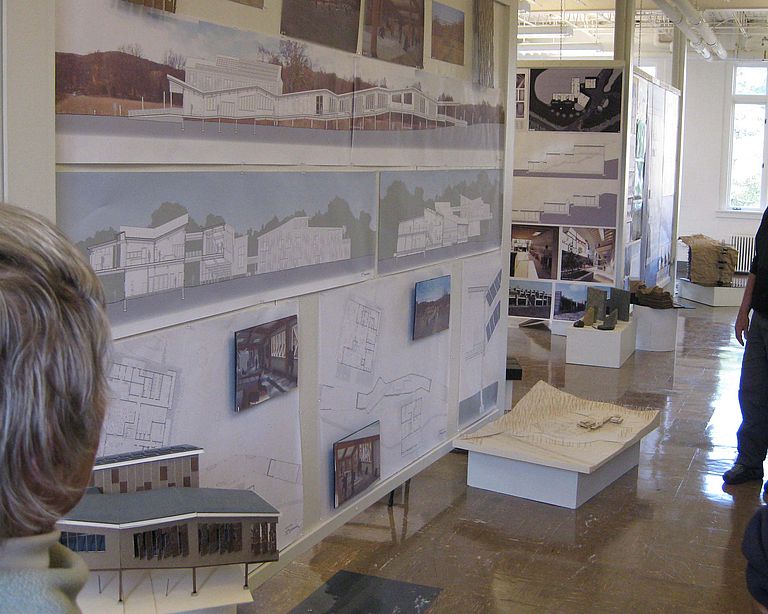 Brian A. Davis
Thesis Question:
How can architecture enhance the reclamation of damaged landscapes while supporting art based environmental education?
Project Overview:
The facility combines the activities involved with creating art with environmental education. The cyclical process of observation, creation, and reflection is aimed at enhancing ecological consciousness through the ethical and aesthetic qualities of personal experiences. The site is located in northeast Pennsylvania, at a former coal mine refuse bank that has been abandoned for 60 years. Through the process of reclamation and transformation it can become an educational facility that works to alter the community's collective perception towards a deeper appreciation of the natural environment.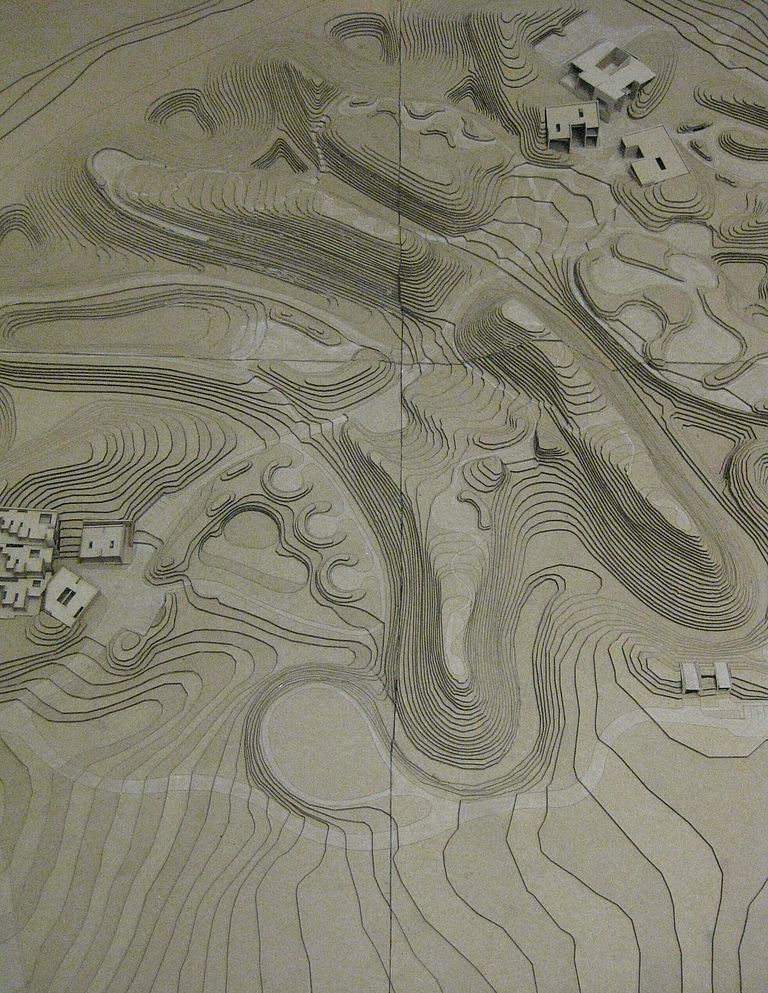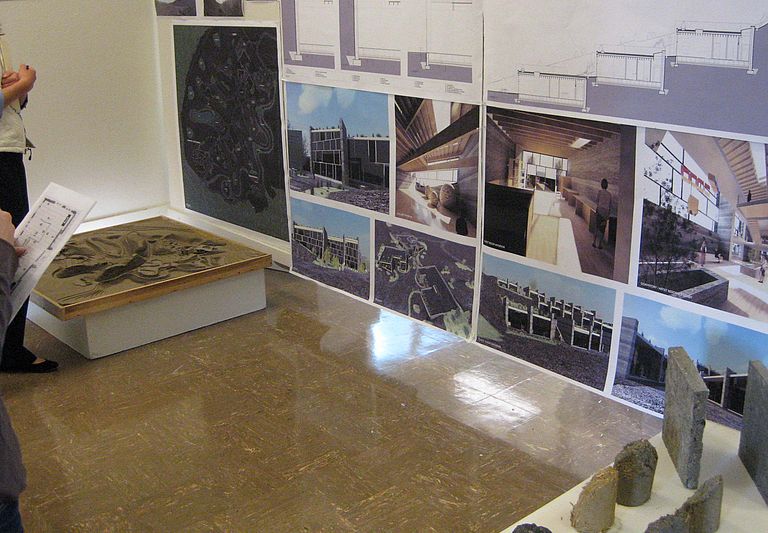 ---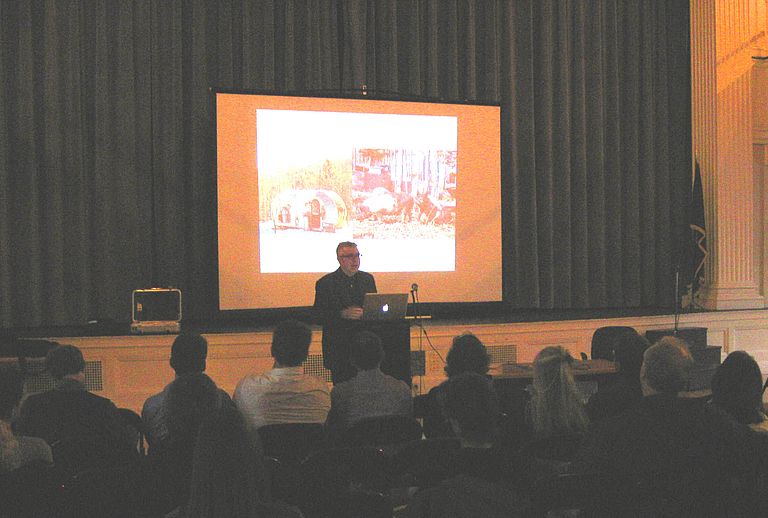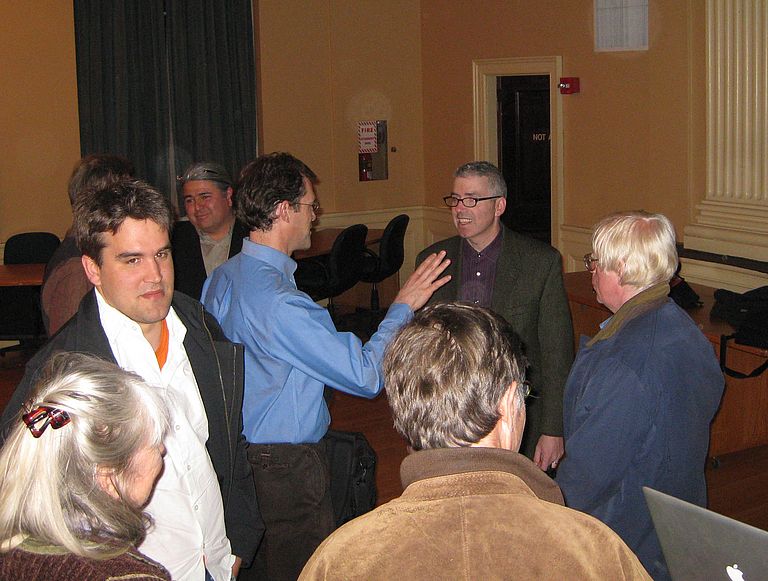 "Innovation In Context"
There was a very enjoyable and educational presentation at Contois Auditorium located in Burlington City Hall. Over 30 people came to hear Danny Sagan speak about "Design/Build Experiments in Architecture and a New Understanding of Place". This was the first event in the aiaVT 2010 presentation series and it offered the history of design/build experiments in Vermont. It sought to explain how local Architects utilizing this design/build method of architectural exploration created an innovative approach to architecture. The presentation focused on the evolution of the design work and how it came to reflect the context of Vermont. aiaVT looks to build on the success of this presentation with the second event in the 2010 series, so keep an eye out for the upcoming announcement.


---
Who is qualified to be an Architect?
This email went out from Hanne immediately following the publication of the last newsletter:

"The recent AIA Vermont Newsletter solicited your help in eliminating the current Vermont "9 year rule". Your response has been great and I am happy to tell you that the provision of House Bill 562, section # 6 concerning the "9 Year Rule" was eliminated by The House Government Affairs Committee before the bill was passed by the House."

Regardless of how the editor feels about a topic, the newsletter should always attempt to present divergent perspectives on issues involving Architecture and Architects. At the time of this particular issue there were no responses to solicitations seeking articles or comments in favor of the movement to sunset the rule. This issue could very well come before the legislature again, and since we have already heard arguments against the legislation, it would be very good to hear the arguments for it.

One of the respondents to the recent aiaVT online survey made a very good point in this regard. This individual felt it was important for the aiaVT to support legislation eliminating the rule because of "the essential importance of accredited professional education to the practice of architecture…" This is an important matter and as a representative of the Architectural profession, aiaVT should have a clear position so the aiaVT Board needs to hear what the members think.

After reading the newsletter another member posed a couple of questions that are pertinent to the importance of education. The reader stated "I wonder how the 9-year candidates' results compare with the degreed candidates' results on the professional license exam." This was followed by question probing a little deeper, wondering "…how the degree curriculum (which varies some from school to school) correlates with the content of the professional license exam and how much of the content of the professional license exam depends on knowledge that must be acquired through post-degree internship?"



---
Newsletter dominance!
As editor of the newsletter I wanted to take a minute to point out that the results of the recent aiaVT online survey indicated that 94% of the respondents read this newsletter. I want to thank everyone for responding to the survey, and in particular to their response to this newsletter question. This helps to illustrate my point that the newsletter is a very effective means of sharing information and ideas with your peers, as well as with the general public who visit the aiaVT website. Take advantage of this resource and get yourself or your company published in the newsletter! Send in a press release about your latest project or an article about the architecture you encountered on a recent trip. Letters to the editor are always welcome, as are architectural photos or artwork. My own articles certainly do not rise to the level of dissertations, so feel free to simply jot down germane thoughts that occur to you and throw them out there to see what people think. It's a minimal investment of time and may get a good discussion going. Give it a try!


---
Calling all party animals!
The official RSVP deadline for Hanne Williams' retirement party has passed, but that doesn't mean those who didn't reply are out of luck. We have had a great response from aiaVT members and associates which has allowed the party planning committee to set up the logistics for the event. The RSVP responses got us in the ballpark and there is a little room to maneuver, so if you had forgotten to reply or have changed your mind and would like to attend then please email aiavt@madriver.com. We have everything needed for a great party including live music plus a hundred and thirty of our closest friends, and we want the strongest show of appreciation possible for Hanne so come and join the fun! We all look forward to seeing you.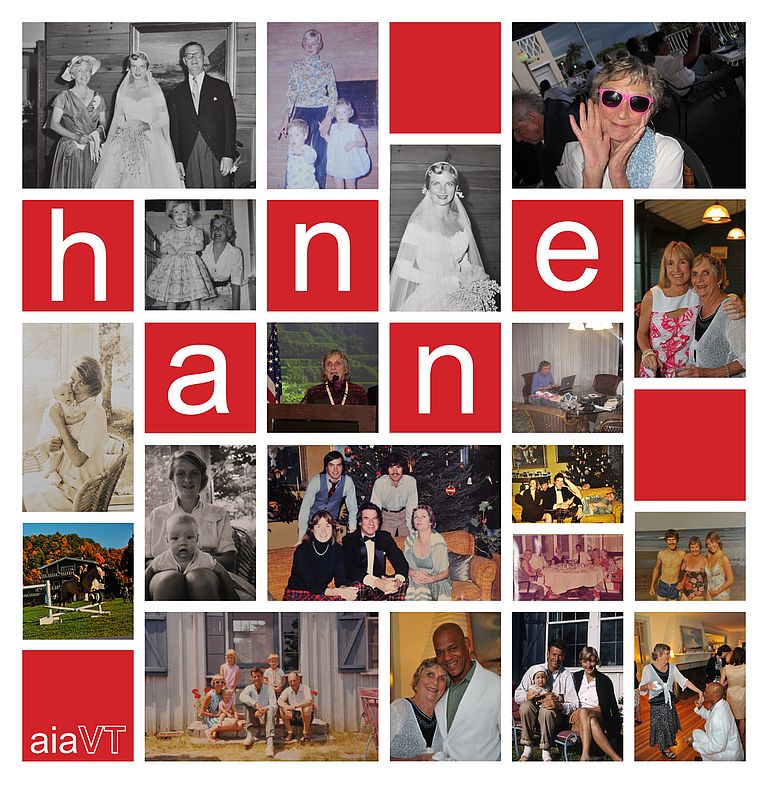 ---
New net-zero building resources online
Net-zero building design is generating increasing interest as concerns about energy costs and carbon emissions mount. Vermont architectural firm, Maclay Architects, has added a new section to its website (www.maclayarchitects.com) to serve as a resource for those interested in learning more about net-zero energy buildings (NZEBs). The section offers information on the different, and sometimes conflicting, ways the term "net-zero" is being used, net-zero design plans for homeowners, net-zero energy case studies for projects the firm has worked on, and links to other resources.

"We see this as a resource for those interested in reducing their energy costs and reducing their carbon footprint, whether they are building new or renovating an existing building," said William Maclay, owner of Maclay Architects. "I believe net-zero energy buildings represent the best long-term solution to the environmental, energy and economic challenges we face."

According to Maclay, different definitions exist for what constitutes a net-zero building and it can be confusing. This website section is designed to inform people on the concept of net-zero and help them better understand how to evaluate buildings referred to as net-zero.

Maclay's firm defines net-zero energy buildings as those that produce as much energy as they consume over the course of the year. The buildings are designed to reduce energy usage by as much as 70% over buildings built to meet current energy codes. To make the move from a super-efficient building to a net-zero building, renewable energy systems are added to produce all the energy the building might need over the course of the year.

"Buildings are costly to operate and are a leading source of greenhouse gas emissions," said Maclay. "Designing our buildings to meet tougher energy standards makes economic and environmental sense."

William Maclay is also one of five contributors to a recently launched blog dedicated to the topic of helping Vermont become the first net-zero energy state (www.netzerovt.com).

Maclay Architects recently completed work on Vermont's first net-zero commercial building—a 16,800 square foot field house for The Putney School—and has completed a number of other net-zero projects.


---
News Item - IDP 6 month rule
The Six-Month Rule went into effect on 1 July 2009 for interns that established an NCARB Record on or before 30 June 2009. The Six-Month Rule will go into effect for all interns at 12:01 a.m. Eastern Daylight Time (EDT) on 1 July 2010.

The Six-Month Rule requires interns to submit their training hours in reporting periods of no longer than six months and within two months of completion of each reporting period. Once interns have submitted their training hours to their supervisor through the electronic Experience Verification Reporting (e-EVR) system in My NCARB Record, those hours are protected while under review. To be protected, the report must have a "submitted" status on the upper right corner. A report that has a "saved" status is not protected.

Interns will not be affected by any delay caused by you or NCARB. However, submitted training hours can be lost if you deem they are invalid, or if they are not earned in accordance with the rules of the IDP.
The Six-Month Rule is designed to encourage:
Better supervision
Interns to target the needed experience sooner
Better reporting habits

Extensions to the filing period are available for:
Birth or adoption of a child
Military service
Serious medical condition

There are no exceptions or extensions granted for missing the deadline to establish an NCARB Record by 1 July 2009 or the 12:01 a.m. EDT 1 July 2010 deadline in accordance with the requirements of the Six-Month Rule.

An extension form with supporting documentation must be submitted to NCARB.

Vermont State IDP Coordinator
Douglas R Viehmann dv@gvvarchitects.com
G V V Architects

IDP Supervisor's e-News March 2010
---
News Item - A very successful studio social
aiaVT and Freeman French Freeman would like to convey their sincere gratitude to everyone who took time out of their busy schedules to attend the Studio Social on March 25th. There were well over two dozen visitors to FFF's office, and there was a lot of good energy and lively conversations. It was an excellent opportunity to share experiences and gather professional information in an informal setting. Some of this has sparked a greater inquiry that will appear in future issues of this publication was well as other aiaVT announcements. Stay tuned!
News item - aiaVT welcomes...
The Vermont chapter of the American Institute of Architects wishes to welcome our newest members: Jon Budreski, P.A., Montpelier; Laurence Dean, Assoc. AIA, Essex Junction; Perry Green, AIA, Manchester; Craig Hervey, P.A., Newbury;
Steve Nurme, P.A., Newport City, NH; Tracy Rogers, AIA, Belmont and Eric Sturm, AIA, Randolph; Kyle Bergman, AIA, Warren; Andrew Keller, AIA, Montpelier; and Gabriel McGuigan, Associate AIA, Brandon.
---
News Item - Upcoming symposium
By Ann Cousins, Preservation Trust of Vermont
Symposium on Sustainability: Retrofitting Historic Buildings to Save Energy
Date: June 4, 2010
Location: Vermont Technical College, Randolph VT

Historic Preservation can, and should be, central to the movement toward environmental sustainability. Older homes and historic buildings offer tremendous opportunities to reduce energy consumption and lower dependence on fossil fuels. Yet, questions remain about the right way to insulate, whether or not to replace windows, add solar panels or wind turbines, and replace historic fabric with "green" materials. This symposium will bring together top researchers and practitioners from the energy efficiency and historic preservation disciplines to share research, debate implications, and answer questions.
News Item - Buidling tour part 2
Earlier this year all of you received invitations to the VGBN tour of the new James M. Jeffords Hall at UVM. The tour took place prior to construction completion and had a focus on the commissioning and systems aspects of this anticipated LEED™ Silver facility. Now that the building is complete, aiaVT is inviting you all for a very different exploration that will once again be led by the Architect of Record, Freeman French Freeman. This tour will focus on the architectural design aspects of this modern science facility. If you missed the previous visit, or if you did attend but would like to experience the building in an entirely different manner, then please sign up for the tour when the notice is sent out in the days to come.


---
The aiaVT newsletter is published by AIA Vermont, the Vermont Chapter of the American Institute of Architects.
Executive Director: Hanne Williams, Hon. AIAVT
aiavt@ madriver.com
1662 Mill Brook Road
Fayston, Vermont 05673
p 802.496.3761
f 802.496.3294
aiaVT is edited by Shawn Brennan, AIA.
Published views are the author's and not necessarily the views of AIA Vermont or any other organization.
AIA Vermont reserves the right to edit articles for available space and determine appropriate content prior to inclusion. Submissions must be received by the 15th of the month prior to publication.
Please send articles, notices, letters, and graphic submissions to:
Shawn Brennan, AIA
Freeman French Freeman, Inc.
81 Maple Street
Burlington, Vermont 05401
802-864-6844
sbrennan@ fffinc.com