---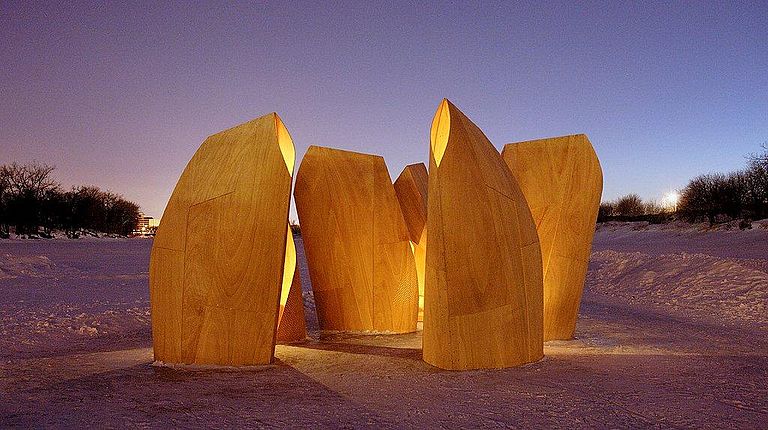 Vermont to Host 2012 AIANE Conference & Awards
This year's AIA New England Conference & Awards Program will be hosted by AIA Vermont at the Hilton Hotel in Burlington on October 19-21. More...
VT/NH Meeting to be Held at Bennington College Campus
The 2012 VT/NH meeting—with special guest AIA Western Massachusetts—is at Bennington College on May 24 More...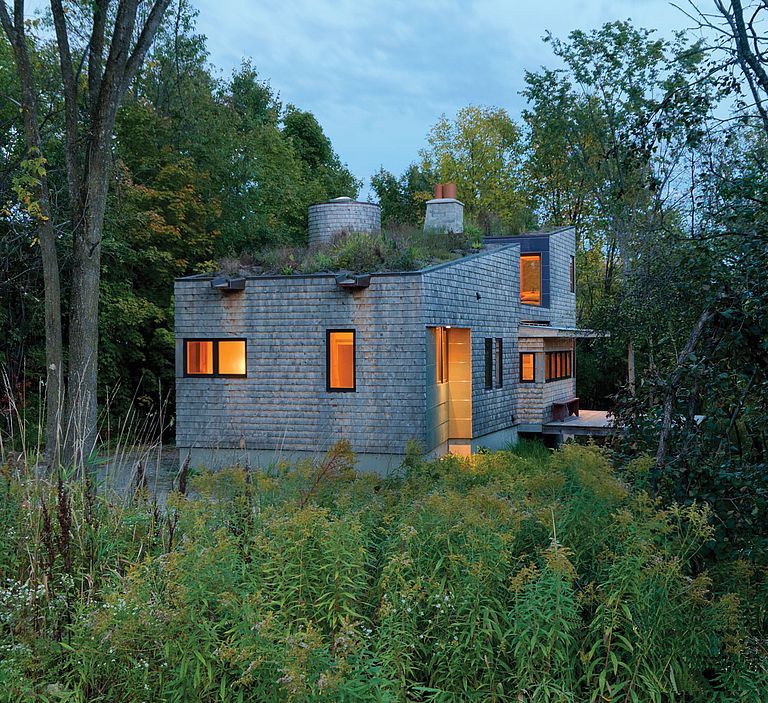 Structures From Cottages To Public Housing Receive Aiavt Design Awards
AIA Vermont held its 2011 Annual Excellence in Architecture Awards Ceremony and Annual Meeting on December 8 More...
VBA Responds to Opinion Piece on "Option Two" Licensure Path
In response to the Opinion article written by Joseph Cincotta, AIA, More...
Williams Remembered at AIAVT Awards Night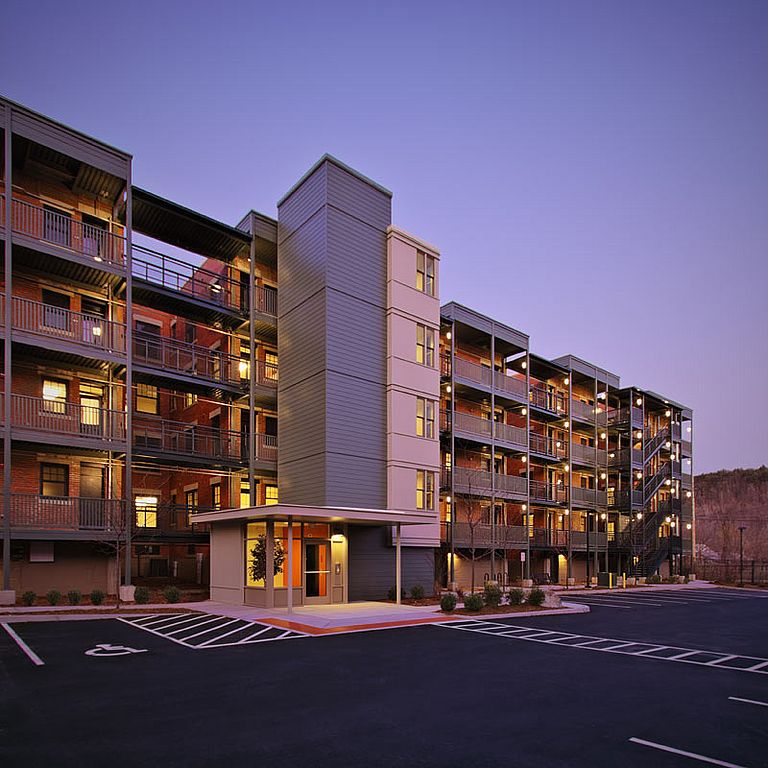 Gossens Bachman Honored with National-Scale Socially Responsible Housing Award
Gossens Bachman Architects of Montpelier and its clients, Housing Vermont and Rockingham Community Area Land Trust, were recent recipients of the John M. Clancy Award for Socially Responsible Housing. More...
---
Vermont to Host 2012 AIANE Conference & Awards
This year's AIA New England Conference & Awards Program will be hosted by AIA Vermont at the Hilton Hotel in Burlington on October 19-21. The theme is "Design of Place," which refers to a place-oriented design response to site, climate, culture and program. Efficiency Vermont is already on board as underwriter of the event.
A major highlight of the conference is keynote presenter Patricia Patkau, AIBC, OAA, FRAIC, RCA, HFAIA, HFRIBA, CM, a recipient of the Tau Sigma Delta Gold medal for exemplary commitment to architectural education and the practice of architecture. Patkau, a partner in the firm of Patkau Architects, Vancouver, British Columbia, has for over 30 years integrated architectural, urban, social, environmental and cultural concerns in her practice. The firm's projects range in type from private residences, libraries and schools to community and academic buildings; the work focuses on the intricacies of local cultures, the specificities of places, and the material imaginations of construction.
The conference will also feature several interactive workshops, including "Introduction to Burlington" and "Design of Place" as well as several building tours, one taking place on the University of Vermont campus, a second on the Champlain College campus, a third of historic Burlington, a fourth of recent development along the city waterfront, and a fifth of energy-efficient houses in Greater Burlington.
Entertainment will also be plentiful during the event. Activities include a "People's Choice Award" cocktail reception on Friday, where project submissions for that award may be viewed; the Design Awards Reception and Dinner on Saturday evening, where the AIANE winners will be announced, and possible leisure opportunities including playing golf.
Participants may earn approximately 12 learning units by attending the full educational program, but may also choose Friday-, Saturday-, or Sunday-only options. Attendance solely at the Design Awards Reception and Dinner on Saturday evening is also an option.
Conference materials, a call-for-entries brochure, and email updates will be forwarded to AIA New England members in the months to come. Visit www.aiavt.org/aiane/ for continuing updates about the conference program, how to register, and how to make hotel reservations. Out-of-towners are urged to make their hotel reservations now as October is a busy season in Vermont.
Over 30 AIA members and their staff, serving on four distinct committees, are hard at work to make this event rewarding and productive for all who attend. Members and their colleagues are urged to participate in October.
Besides Efficiency Vermont, committed sponsors for the event are Engineering Ventures, PC Construction Company, Marvin Windows and Doors, Naylor & Breen Builders, and Sherwin Williams. There are multiple opportunities for additional sponsorships; contact AIAVT's Executive Director Carol Miklos at cmiklos@ aiavt.org for details.
---
Structures From Cottages To Public Housing Receive AIAVT Design Awards
AIA Vermont held its 2011 Annual Excellence in Architecture Awards Ceremony and Annual Meeting on December 8 at the Country Club of Vermont in Waterbury, Vt. Nearly 140 AIAVT architects and their colleagues in engineering, construction, and building materials joined in the lively celebration. The event was made possible with generous support from A.W. Hastings and Co., Enfield, CT. / Windows + Doors by Brownell, Williston, underwriters of the event for the 10th consecutive year. Engelberth Construction Inc., Burlington; Engineering Ventures, Burlington; Naylor & Breen Builders, Brandon; and Poole Professional, Ltd., Wakefield, MA, generously provided additional support.
AIAVT President Harry Hunt, Harry Hunt Architects, Stowe, presented nine design awards, chosen from 33 project entries received from AIA member architects throughout Vermont. Eight of the nine were cited for recognition in the Honor, Merit and Honorable Mention categories by a jury of architects from AIA Connecticut; the ninth won a People's Choice Award.
Two southern Vermont firms received recognition at the most prestigious level: Honor Award. The first was awarded to LineSync Architecture of Wilmington for the renovation of "Cattail Cottage," a 987 sq. ft. project on Lake Bomoseen in Hubbarton. The jury noted "There were few opportunities given the site and setting: the end result is quite wonderful." Jurors also commended the attention to detail and sustainability.
The second Honor Award went to Centerline Architects & Planners, PC of Bennington for Cricket Hill Barn, a 700 sq. ft. renovation project on the Bennington College campus. The jury said, "The project team demonstrated confident design throughout" in creating a multipurpose space from the previously neglected structure. "While giving fine attention to detail, the team resisted the temptation toward unnecessary embellishment," jurors added.
McLoed Kredell Architects of Middlebury received a Merit Award for "Nature Preserve House," a private residence in Middlebury. The jury noted that "the residence sits well in the landscape" and commended its center building, fireplace element, and circular stair used for airflow. The "living roof" with well designed scuppers also drew positive comments.
A Merit Award went to TruexCullins Architecture of Burlington for a three-part residence in Jericho composed of a main residence, apartment and office. The jury liked the well-proportioned and organized floor plan. "The project is pleasant with flowing spaces, comfortable interiors and good connection to the landscape," jurors added.
Birdseye Design of Richmond received a Merit Award for a private residence in Shelburne. The jury praised the "good proportions and excellent use of materials," including western red cedar siding that was felt to "integrate well with the outdoors" and custom metal and wood used to construct a passive solar shading pergola.
Honorable Mention Awards were given to Gossens Bachman Architects of Montpelier for "Gile Hill," a mixed income housing project that made use of wood harvested on-site in Hanover, NH; Birdseye Design for its "Musician's Retreat" in Waitsfield (below left), adapted from a disassembled and relocated barn; and Duncan Wisneiwski Architecture of Burlington for "Hickory Street," a public housing-urban planning project in Rutland that redeveloped a distressed housing site and reconnected it to the surrounding neighborhood.
Duncan Wisneiwski also won a People's Choice Award for its 28-unit multifamily Canal Street Veterans Housing project in Winooski (above left). All of the entries will continue to be physically displayed in 2012 at various locations around the state and may also be viewed online by selecting "Awards" on the web site menu bar (above).
The event also provided an occasion for Hunt to pay tribute to Hanne Williams, AIAVT's former executive director, who passed away in November 2011 (see below) and for Diantha Korzun, AIAVT's incoming president, to introduce 2012's theme, "Design of Place" (see article about "AIANE Conference" in this issue).
---
Gossens Bachman Honored with National-Scale Socially Responsible Housing Award
Gossens Bachman Architects of Montpelier and its clients, Housing Vermont and Rockingham Community Area Land Trust, were recent recipients of the John M. Clancy Award for Socially Responsible Housing. The recognition was awarded for the transformation of the historical NAMCO Block in Windsor.
"Obviously, GBA is very excited about being recognized by the Boston Society of Architects and specifically for receiving the Clancy Award," said Tom Bachman, AIA, principal, Gossens Bachman Architects. "However, the real credit goes to Housing Vermont and Rockingham Area Community Land Trust. These two groups had the vision to remake the NAMCO Block, which helped revitalize the surrounding neighborhood as well as the town of Windsor. They deserve most of the credit."
The Clancy Award for Socially Responsible Housing was established in 2004 by the Boston Society of Architects in recognition of John M. Clancy, FAIA, of Goody Clancy Architects. The intent of the award is to recognize and encourage excellence in the planning, design, construction and maintenance of socially responsible urban housing by honoring an organization, a group, or an individual who has been a major force behind one or more built housing developments characterized by excellence in planning, design and construction.
The jury, comprised of Rob Chandler, AIA, principal, Goody Clancy, Boston; David Block, AIA, director of planning, The Community Builders, Chicago; Deborah Goddard, chief counsel, Department of Housing and Community Development, Commonwealth of Massachusetts; Rob Chandler, AIA, principal, Goody Clancy, Boston; David Hacin, FAIA, principal, Hacin + Associates, Boston; and Jeff Stein, AIA, dean, Boston Architectural College reviewed submissions from across the United States.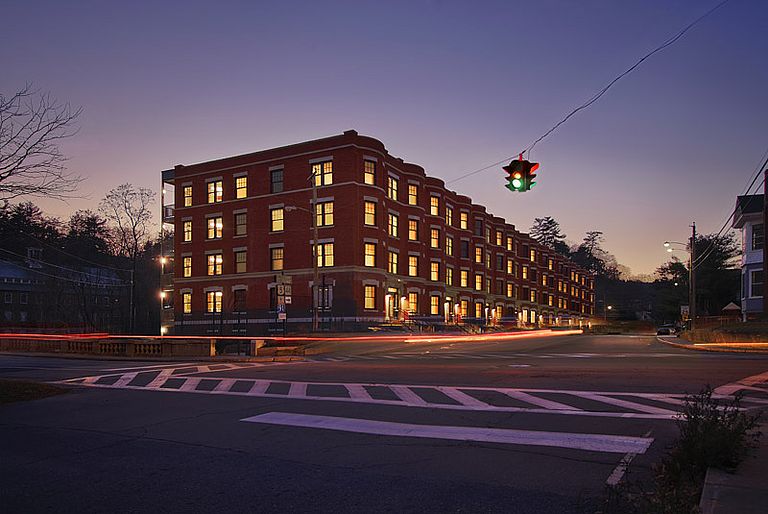 About its selection process, the jurors said, "In the end, we honored six projects…In every instance the work was excellently handled from plan to completion. We recognized work that represents a mix of scales and is the result of fine contemporary thinking that elevates design beyond a basic reaction to a site's past problems. These projects are evidence that affordable housing can be done well and can represent the urban form while bringing lovely, well-lit space to people who need it most."
About the NAMCO Block project, specifically, the jurors said, "The entire neighborhood is revitalized by the renovation of this four-story brick apartment block, originally comprising nine identical buildings that contained 72 apartments. Dedensification was thoughtful here, incorporating a plan that reduced the number of units to 58 and provided each with a south-facing kitchen to maximize light. The rental structure was changed from low income to mixed income and represents a small town's theological choice to fix up a very large historical site and make it appealing to a wide range and percentage of its population. The space feels very accessible, not just mechanically, but socially, incorporating very sensitive distribution of light and views. It's rare to find a full block of buildings without some pronounced misstep, but this work is calm and handsome. The client, who could have done so much less, should be applauded."

VBA Responds to Opinion Piece on "Option Two" Licensure Path
Note: The response below, from the Vermont Board of Architects, is published as it was received and is a collective statement from the Vermont Board of Architects and not a personal response by any particular board member.
In response to the Opinion article written by Joseph Cincotta, AIA, entitled "Proposed Demise of Vermont's 'Option Two' ", which appeared in the December 2011 issue of AIAVT News, the Vermont State Board of Architecture presents the following data. This information is presented here without further commentary.
In the fall of 2010 the Vermont Board of Architecture mailed a survey to all architects registered in the state regarding the education requirements for licensure. The response to this survey was remarkably high: of the 1166 surveys mailed out in October, the Board received 568 responses, or a rate of 49-percent.
The first question on the survey asked, "What should the minimum education required be for licensure?" The results were as follows:
A. An NAAB accredited degree in architecture: 278 (49-percent)
B. A 4-year non-accredited bachelors degree: 159 (28-percent)
C. A two-year associates degree in architecture: 53 (9-percent)
D. A high school diploma: 78 (14-percent)
In a separate analysis of a recent 12-month period (August 2008 to August 2009) the Vermont Board granted a total of 16 licenses for individuals passing the ARE (the NCARB national examination). Of these individuals:
A. Possessed accredited architectural degrees: 8 (50-percent)
B. Possessed 4-year architectural degrees: 3 (19-percent)
C. Possessed 4-year non-architectural degrees or 2-year associates degrees in architecture: 3 (19-percent)
D. Attended college without achieving a degree: 2 (17-percent)
E. Possessed only a high school diploma: 0 (0-percent)
The September 26, 2011 meeting referred to in the article was called by the Vermont Board to present the survey information and to solicit input regarding possible changes to the educational requirements. This intention was clearly stated in the August 4, 2011 letter, which was mailed to all Vermont architects. Eighteen individuals attended that meeting and, in addition, five letters with comments were received. The Board heard over 20 commentaries from those attendees. It is important to note that at the time of the meeting the Board had no proposed changes "on the table."
It is also important to note that the earlier proposed changes made by the Board and referred to in the "Opinion" article had been presented at a hearing on December 17, 2009 and were subsequently pulled and never presented to the State Legislature.
- Vermont State Board of Architects
Note: AIAVT would like to know where the full range of members stand on the issue of maintaining vs. doing away the Option 2 path to licensure for architects. How do you feel about this issue? Please answer our single-question survey.
Calendar
4/10 Sustainable Structures: Thermal Breaks, Materials & the General State of a Swiftly Moving Practice, Tuesday, April 10 2012, 6:00-8:00pm, National Life Insurance
4/11 Universal Design – Beyond Regulations, Wednesday, April 11, 2012
4/12 AIAVT Studio Social and CEU Presentation Thursday, April 12, 2012, 4:30-7 p.m., April 12, Maclay Architects, Waitsfield,
5/16 How to Become a LEED Professional and Maintain Your Credential, Wednesday May 16, 2012, 9:00 – 11:00 AM (2LUs)
5/24 AIAVT/NH Joint Meeting and Tour, Thursday, May 24, 2012, 3:30-7:45 p.m., May 24, Guided Tour of Bennington Campus Buildings and 3 CEU's
---
---
Williams Remembered at AIAVT Awards Night
Though she had been battling cancer for several months, Hanne Williams, AIAVT's former executive director, had sent in her RSVP to the 2011 Annual Meeting and Design Awards. Though Williams had every intention (as always) to drink and be merry at the celebration, she was denied that intention when she succumbed to her disease in late November. But Williams was most certainly at the festivities that night—in spirit.
In remembering Williams as a dear friend and devoted supporter, AIAVT President Harry Hunt said, "In May 2010 we gathered at Mad River Glen to celebrate Hanne's 40 years of dedicated service to AIAVT. Now, just 19 short months later, as we gather to celebrate our own successes, we find ourselves mourning the loss of a soul who was incredibly dear to us."
Hunt went on to share memories of Williams provided by several AIAVT members. To read those memories, in addition to more comments forwarded to the AIAVT office visit:
---
VT/NH Meeting to be Held at Bennington College Campus
3 learning units offered
The 2012 VT/NH meeting—with special guest AIA Western Massachusetts—is at Bennington College on May 24, from 3:30-7:45 p.m. The College recently was cited as one of "10 college campuses with the best architecture" in Architectural Digest.
The meeting offers tours of several of the architecturally-notable structures that helped Bennington get on AD's top-10 list, including the Center for the Advancement of Public Action (Tod Williams and Billie Tsien); the Visual and Performing Arts Center (Robertson Ward); the Crossett Library (Pietro Belluschi), and student housing by Kyu Sung Woo, and by Edward Larrabee Barnes. Attendees will also have the opportunity to pass by the relatively new Student Center by Taylor and Burns, which won an AIA/Society for College and University Planning (SCUP) Award.
After the tours, participants will be treated to a talk by acclaimed landscape architect and college campus planner Doug Reed, a principal at Reed Hilderbrand LLC, Watertown, Mass. Reed's firm has twice received ASLA's highest award for design excellence—for the Children's Therapeutic Garden, Wellesley, Mass. and the Leventritt Garden at Harvard's Arnold Arboretum. The firm also received an AIA/SCUP award for Bennington College's Master Plan.
AIAVT member Donald Sherefkin, a professor of architecture at Bennington since 1996, will present a history of the College's built environment through a series of photographic images. Sherefkin practices in New York as well as Vermont and has taught at the Illinois Institute of Technology in Chicago, where he also headed the University's in-house architecture office at Mies van der Rohe's historic campus.
The educational component of the event offers three learning units and is followed by a reception. All AIA members and their colleagues are urged to take the opportunity to network with other architects and building professionals in the awe-inspiring setting of the Bennington campus.
More emails will be sent out to members in the coming weeks.
Register online.
---
New Affiliates
Building for Social Responsibility (BSR) is a group of Vermont development professionals who are concerned with the impact of development on communities and environment. BSR believes in the construction of environmentally sound, healthy, durable green buildings to reduce the threats of global warming and resource depletion. BSR also works to advance environmentally sound technologies and practices. Contact, Hillary Hunter, hhunter@ bsr-vt.org, www.bsr-vt.org
Historic Windsor, under the Preservation Education Institute (PEI), provides nationally recognized training in historic preservation building skills to Vermont and New Hampshire builders, architects, engineers, developers, and property owners on dozens of topics. Courses comprising its Certificate in Preservation Skills and Technology were awarded college transfer credit through the Vermont State College System in 2011. PEI is a registered provider of AIA learning units. Contact: Judy L. Hayward, histwininc@ valley.net, www.preservationworks.org
PC Construction Company is one of the nation's largest employee-owned contractors. The company offers construction management, general contracting and design/build services to public and private customers. Contact: Mary Lintermann, PE, mlintermann@ pcconstruction.com, www.pcconstruction.com
Vermont Green Building Network is a non-profit organization dedicated to increasing Vermont's participation in green building and to promoting the environmental, financial, community, and health benefits of green design, construction, and building operation practices. We are builders, designers, developers, policy makers, service providers, and other building industry professionals working together to improve building practices in Vermont. Contact: Hillary Hunter, vermontgbn@ gmail.com, www.vgbn.com
Vermont Natural Coatings PolyWhey®, located in Hardwick, Vermont meets high professional and environmental standards; the company displaces toxic components traditionally found in wood finish with recycled whey protein. Contact: Andrew B. Meyer, andrew@ vermontnaturalcoatings.com, www.vermontnaturalcoatings.com
---
The AIAVT News is published by AIA Vermont, the Vermont Chapter of the American Institute of Architects.
Executive Director: Carol Miklos
CMiklos@ aiavt.org
88 Blackbird Lane
Charlotte, Vermont 05445
p 802.425.6162
f 802.425.6165
---
AIAVT News is edited by Carol Miklos.
Opinions are the author's and not necessarily the views of AIA Vermont or any other organization.
AIA Vermont reserves the right to edit articles for available space and determine appropriate content prior to inclusion. Submissions must be received by the 15th of the month prior to publication.
Please send articles, notices, letters, and graphic submissions to:
Carol Miklos, Executive Director, AIAVermont
CMiklos@ aiavt.org
88 Blackbird Lane
Charlotte, Vermont 05445
p 802.425.6162
f 802.425.6165