---
aiaVT President's column
For the past couple of years at our annual retreat in June, the Board of Directors has selected a topic, or theme, for the upcoming year. For 2009, we have decided to focus on modern architecture. More...
Top energy-efficient Vermont designs named
Six New England design firms and builders have received top distinctions in two competitions honoring energy-efficient design. More...
The editor presses 'reset' button on CANstruction
At the last aiaVT board meeting I was stunned to hear that CANstruction may be cancelled this year because of a lack of interest. More...
A warning to those of us who kick it old school
I am not necessarily anti-technology…I don't have the primordial desire to paint my construction documents on cave walls, More...
aiaVT President's column
By John McLeod, AIA
For the past couple of years at our annual retreat in June, the Board of Directors has selected a topic, or theme, for the upcoming year. For 2009, we have decided to focus on modern architecture. I use the term "modern architecture" to refer both to Modernism, with a capital 'M', as a recognizable movement or ideology or period of architecture, as well as modern in the sense of 'contemporary'—or 'with time', to go back to the Latin origin of that word. In both cases, there's the idea of being in the present, rather than dwelling on the past. But whereas the Modernism of the Bauhaus and the International Style sought to escape or transcend history and place, it seems to me that the best modern architecture now—especially here in Vermont—has evolved to include a healthy appreciation and respect for our past architecture, while not mimicking or copying it. Instead, it belongs to and emerges from its particular time and place. In this sense, it goes beyond 'style' and strives for a certain 'truth' or 'honesty' in architecture…in other words, it's true to itself.

As with the past year's theme of Sustainability, the topic of modern architecture will underlie our programming and editorial calendars for the coming year. We'll start by taking up Modernism as a (now) historical movement, in the form of a public lecture/presentation in the winter that is intended to be educational and informative for our membership and especially the general public. [editor's note - see announcement for 'modernism' presentation 3/19/09 in this issue] Then we're planning to have a panel/roundtable discussion in the spring—again open to the public—with some of our colleagues here who are practicing and teaching and dealing with this stuff on a daily basis. And finally our series of public presentations will conclude in the fall with a presentation by an architectural historian, which will synthesize Modernism as a movement with contemporary architecture in Vermont, including several case studies and accompanying tours—all open to the public.

At the retreat each year we step back and evaluate what aiaVT is about and what our mission or purpose is. One thing that comes up is the opportunity for learning, discussion, and exchange of ideas—among ourselves, and with the general public—in an effort to foster good design. A fellow architect (and member of aiaVT) once passed on a question to me that she had heard posed, and it's stuck with me, and the question was: What will the architectural historians say about our era? I don't think the answer's going to be based solely on the work of the celebrity architects, but will include what we're all doing day in and day out, what we believe in, and what we stand for. And so I'd like to pass on that question, and consider it together, and discuss it with the greater community, as we head into the new year.

So keep an eye out for e-mails and website postings about these programs, as well as returning events such as the design awards receptions around the state, Architecture Day, studio socials, the golf tournament, and CANstruction.
Top energy-efficient vermont designs named
Six New England design firms and builders have received top distinctions in two competitions honoring energy-efficient design. The awards are presented by Efficiency Vermont, which formally announced the winners on February 11, 2009 during the opening plenary session of its Better Buildings by Design Conference. AIA Vermont is a sponsor of this two-day conference, which was held in Burlington.
More than 1,000 design and construction industry professionals were expected to attend the conference, which presented over 30 workshops on approaches to energy-efficient building design, construction and renovation. Information is available at www.efficiencyvermont.com/conference or, toll-free, at 877-248-9900.

2009 Best Integrated Solution for Energy Efficiency Awards
Recognizing excellence in energy-conscious design for new commercial, institutional, industrial, and multifamily buildings constructed in Vermont.


Small Buildings <20,000 sq. ft.
SAS Architects, Burlington
Project: Franklin Environmental Center at Middlebury College, Middlebury
Large Buildings >=20,000 sq. ft.
William Maclay Architects and Planners, Waitsfield
Project: NRG Systems Building 2, Hinesburg

2009 Vermont ENERGY STAR® Homes Best of the Best Awards
Honoring exceptional achievement in new homes receiving ENERGY STAR qualification.


Single-Family Detached Homes <2,000 sq. ft.
Project: Private home, Hinesburg
Builder: Reiss Building & Renovation, Hinesburg
Electrical Contractor: Donald Schroeder, Master Electrician, Colchester
Ventilation System: Memphremagog Heat Exchangers, Montpelier
Plumbing & Heating Contractor: E & M Mechanical, South Burlington
Single-Family Detached Homes 2,000 to 3,000 sq. ft.
Project: Private home, Brattleboro
Builder: High Ridge Builders, LLC, Spofford, NH
Developer: Brattleboro Habitat for Humanity, Brattleboro
Electrical Contractor: Corliss Electric, Brattleboro
HVAC Contractor: Solar Applications Company, Brattleboro
Single-Family Detached Homes >3,000 sq. ft.
Project: Private home, East Montpelier
Builders: Bill Heigis, Builder, Montpelier & H. Guion, Builder, East Montpelier
HVAC Contractors: Cacicio's Heating, Montpelier and Twin Cedar Mechanical, Saint George
Domestic and ground source heat pump: Spafford & Sons Water Wells, Jericho Center
Plumbing Contractor: O'Riordan Plumbing and Heating, East Calais
Solar hot water and electricity: Elemental Energy, East Montpelier
Electrical Contractor: Middlesex Electric, Montpelier
Ventilation System: Memphremagog Heat Exchangers, Montpelier
Single-Family Attached Homes
Project: 7 Depot Street Apartments, Proctorsville
Builder: The Quinn Company, Rutland
Developer: Rockingham Area Community Land Trust
Electrical Contractor: Watts-Up Electric, Ascutney
HVAC Contractor: Black River Mechanical Services, Ludlow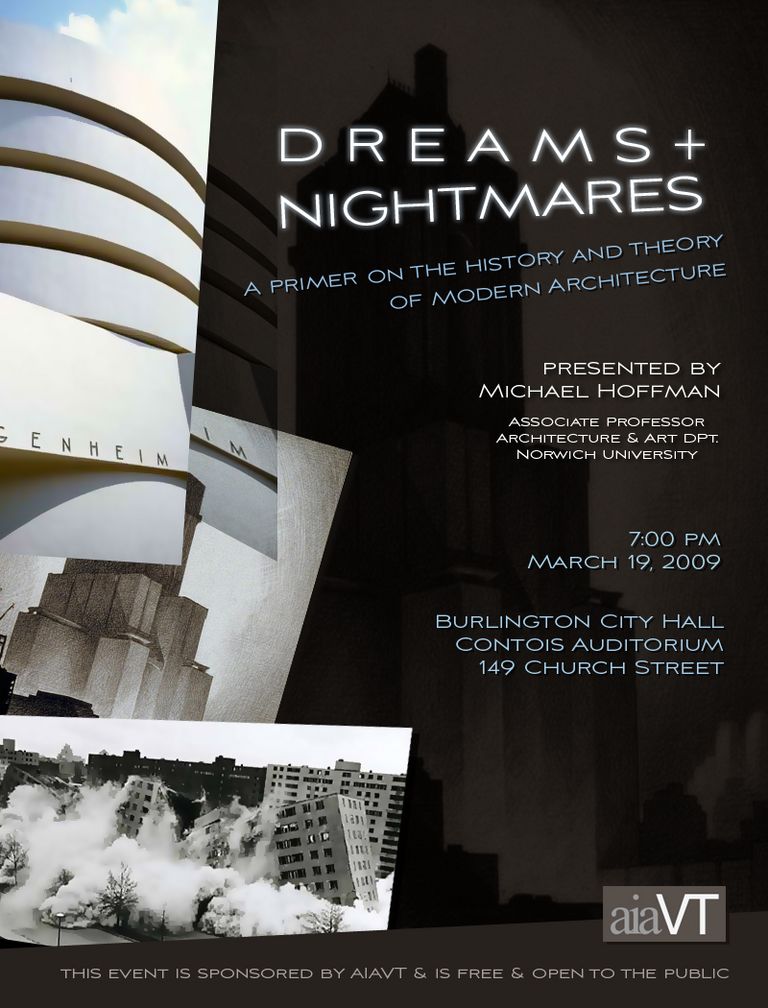 The editor presses 'reset' button on CANstruction
At the last aiaVT board meeting I was stunned to hear that CANstruction may be cancelled this year because of a lack of interest. This was a surprise to me since I knew my office was interested in participating again this year and we were not included on the very small list of teams. I convinced the other board members to extend the team sign up period since most people may not have noticed the deadline given that the event isn't until the Fall. All you need to do right now is send an email to Hanne saying that you are interested in forming a team. It will be a lot of fun and this year the food donations will be appreciated more than ever! Just write to aiavt@ madriver.com and Hanne will get things rolling. Thank you very much.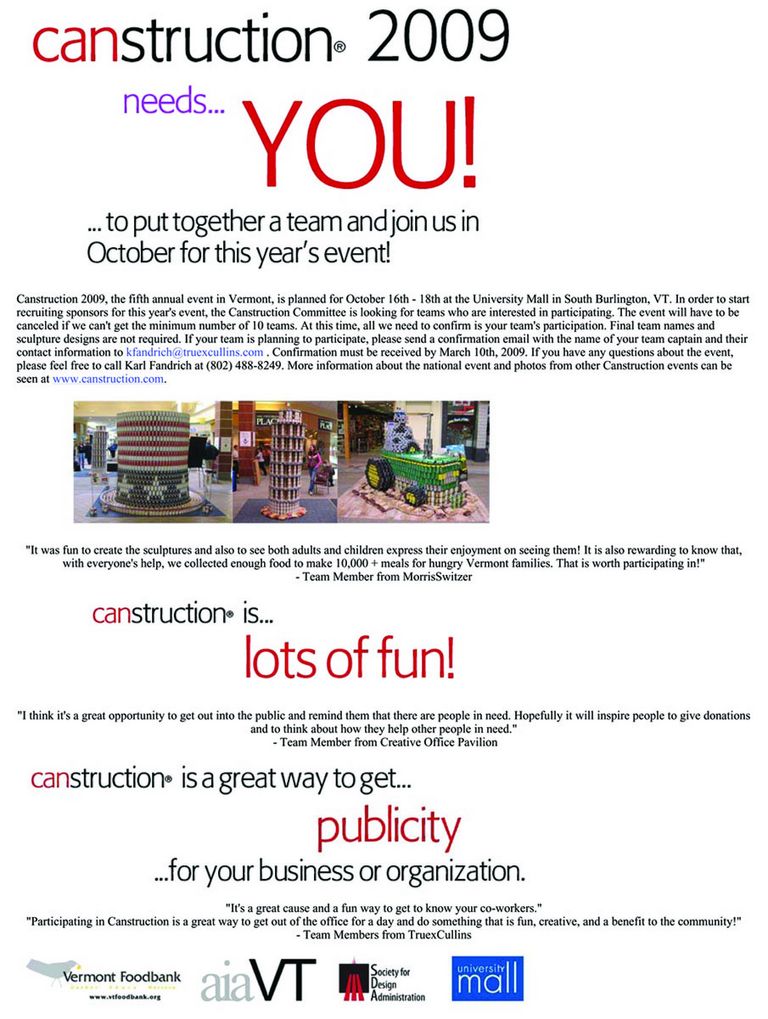 R/UDAT cometh
Newport Vermont has been accepted as an AIA R/UDAT (Regional/Urban Design Assistance Team) site. This means is that an interdisciplinary team of highly respected professionals will hold a five day charette in Newport aimed at proposing solutions that foster the economic development of the town.

The AIA has run the R/UDAT program since 1967 and since its inception the program has looked at hundreds of locations across the U.S. This will be the first time that the team has visited Vermont! Their process relies on the following principles:
Multidisciplinary Expertise
Objectivity
Community Participation
For more information on the R/UDAT visit please visit the following link:
www.aia.org/about/initiatives/AIAS075372

The event sponsor is the Newport City Renaissance Corp. and they have invited all AIA Vermont members to participate. This should prove to be a great opportunity for all those members willing to volunteer their time. You'll have a chance to work with some nationally recognized experts while learning about the challenges faced in Newport.

This event will occur March 18-23. For a list of the specific times and locations in which Newport City Rennaissance Corp. has requested our involvement, please see the attached document.

Posted for our friends at VGBN
As a follow-up to the "Toward Net-Zero Energy Homes" series offered several years ago, VGBN is hosting a series of workshops in 2009 entitled "Deep Energy Retrofits", presented by award winning sustainable design consultant, Marc Rosenbaum, P.E. The first one will be held Friday, March 27 at the Middlebury Inn. If you are a builder, architect, engineer, public official, construction professional, or home owner, you will benefit from this full day workshop designed to help you save money and energy through focusing on deep energy retrofits of homes and other building types. Please see attached flyer for more information. Registration is available on the vgbn website - www.vgbn.org


A warning to those of us who kick it old school
By Shawn Brennan, AIA
I am not necessarily anti-technology…I don't have the primordial desire to paint my construction documents on cave walls, although a penchant for drawing is a major reason why I went into architecture in the first place. If I had wanted to work on a computer all day I would have...well…probably made a lot more money. All of this is to preface an event that caused one of my more enduring and inspired rants. I suppose one could say these rants are a form of therapy except that they don't really seem to help my psyche at all. This particular tirade revolves around digital cameras. Like some of you, I took a photography course in college instead of more useful classes like "Microsoft Office for Paper Pushers" and "Talking Your Consultants Off of the Ledge". The point is that I do know my way around a 35mm camera and a darkroom so I can make a solargram of a grease trap for my site visit report like you read about.
My office needed a new digital camera for construction progress photos so we sent out one of our technophiles to find us a good deal on a decent quality camera. You see, I come back to the point from time to time if you read long enough. If you learn nothing else from this you should know that it is not advisable to send a techie to buy your digital equipment unless you're Stephen Hawking. Instead send a person whose parents bought them Velcro strip sneakers when they were a kid "because tying those knots was just too challenging for little Timmy". Remember Roos? The Velcro sneakers with the tiny little Velcro pocket on the side that was only big enough to hold what little was left of your pride? At least Timmy would bring back a camera you can figure out how to use. I wanted a light pocket size point-and-shoot and Einstein comes back with a bowling ball for me to haul around. There's nothing like toting the equivalent of a backpack full of books with you on the job site. My point-and-shoot turned into a point-and-hope…hope you push the right button because it has 16 of them to go along with the 4 selector switches, 3 access doors, 3 portals, 2 lights, 1 joystick, 1 pad, 1 LCD display, and 1 memory card. I could talk to the astronauts on the international space station while doing my banking on this thing, if I could only figure out which buttons to push. I expected the two Japanese Wii guys to knock on my office door to ask if they could play with it. The thing even shoots movies so in case that suspicious looking concrete guy at the job site actually turns out to be a Bigfoot then I can add my own craptacular footage to the other irrefutable high quality evidence out there.
The first time I lugged this modern marvel to the job site I noticed it wouldn't flash. In fact I didn't even see a flash, or a way to make one pop up with buttons that say things like "Drive", "AE/AF", "WB", and "Set". I don't know if you've noticed or not, but there aren't a lot of footcandles inside a building during a major renovation so I really need a flash because the darling little faux shutter noise is telling me I have to stand still long enough to use a pinhole camera. I wasn't there to take a time lapse photo of the entire construction process so I finally tucked my pride into my sneaker pocket and asked if anyone there could figure out how to make the flash work (I assumed there had to be one). For about ten minutes we're all looking at this thing like Chevy Chase trying to find the gas cap on the Wagon Queen Family Truckster. I ended up leaving the site with my bowling ball full of dark, blurry, very high resolution photos and an all consuming desire to heave this digital lead ingot out of the highest window I can find. I often say that it's a good thing high tech equipment is so expensive. Upon my return to the office I pleasantly express my dismay with this fascinating piece of photographic technological advancement when I am matter-of-factly informed that the flash is manual…you have to pull it up yourself! With 16 buttons, 4 selector switches, 1 joystick, 1 pad…and I have to pull up the flash…if I can find it?! I resisted the urge to tie this little gem around the feet to the person who bought it and drop them into Lake Champlain. Instead I'm focusing my energy on searching the "internets" looking for one of those Polorock cameras I saw on the Flinstones. One moving part - that's how I roll.
News Item - Stairs 101 from Fire Safety
From State of Vermont Division of Fire Safety
Fire Safety News, February 2009
Stairs serve important functions in a building allowing for normal movement of people within a building, providing emergency egress from a building and facilitating access to the building for rescue and fire fighting operations. The details of stair design are essential for safety.
The design criteria in the Code are based on people's feet and stride length and how people move. The Code allows existing stairs to comply with previous design standards and formulas for stair construction due to the hardship and impracticality of rebuilding existing stairs to meet newer design standards. The Code also allows existing stairs to be rebuilt to the previous design standards so that they will be able to fit in the existing stair enclosure or opening. Vermont has amended the design standards for new stair construction in dwelling units to permit a maximum riser height of 7 ¾" and minimum tread depth of 10". [101: 24.2.5.7] The design and construction of stair treads and risers must be uniform for both new and existing stairs. The variation in the depth of adjacent treads or the height of adjacent risers must not exceed 3/16" and the variation between the largest and smallest riser, or the largest and smallest tread, must not exceed 3/8" in any flight of stairs.
---
Maybe some free publicity for your company...it certainly is for theirs
Digital Design Magazine Seeks Submissions

Varvana.com is a new digital design magazine showcasing the most beautiful houses and apartments in the nation. When it launches this spring, Varvana will allow readers to peruse thousands of upscale interiors culled from the portfolios of the nation's top designers and architects. Readers will be able to use the site to shop for a design professional, get decorating ideas, discover new products, and enjoy tours of exclusive trade fairs and show houses.

Varvana is soliciting photographs of recent residential projects for inclusion on the site. There is no charge to show your work on Varvana, making it a great way to market your services and share your portfolio with a wider audience. (Previously published projects are welcome.) Qualifying homes must be well-furnished, professionally photographed, and should feature at least five completed spaces. Homeowners can remain anonymous, and every photo will be accompanied by the architect's name and a link to his or her Web site.

For complete details visit www.Varvana.com, e-mail Fred@Varvana.com, or phone (206) 463-9550 weekdays between 9 a.m. and 5 p.m. Pacific Time.



News item - aiaVT welcomes...
The Vermont chapter of the American Institute of Architects wishes to welcome our newest member: Henry Van Meter, AIA, Pawlet.
Make a nomination for the Smart Growth Vermont awards
Smart Growth Vermont is once again seeking nominations for their two major awards: The Smart Growth Awards (given to projects, plans, or initiatives that exemplify smart growth principles) and the Arthur Gibb Award for Individual Leadership (given to an individual whose leadership has brought about a positive and lasting change in the way their community or the state integrates growth and conservation). Please take a look at the nomination materials and give some thought as to whether any person, organization, or company in your region might be a good candidate for either award.

The deadline for submitting nominations is April 30. The nomination criteria and submission requirements for each award are outlined in their respective nomination forms. Note that the cover sheet for each nomination (the last page in each packet) is a fill-out PDF, so you can enter all the requested information on screen before printing it out. For more information about the awards or to learn about past recipients, please visit our website at http://www.smartgrowthvermont.org/help/awards07/.
---
---
The aiaVT newsletter is published by AIA Vermont, the Vermont Chapter of the American Institute of Architects.
Executive Director: Hanne Williams, Hon. AIAVT
aiavt@ madriver.com
1662 Mill Brook Road
Fayston, Vermont 05673
p 802.496.3761
f 802.496.3294
aiaVT is edited by Shawn Brennan, AIA.
Published views are the author's and not necessarily the views of AIA Vermont or any other organization.
AIA Vermont reserves the right to edit articles for available space and determine appropriate content prior to inclusion. Submissions must be received by the 15th of the month prior to publication.
Please send articles, notices, letters, and graphic submissions to:
Shawn Brennan, AIA
Freeman French Freeman, Inc.
81 Maple Street
Burlington, Vermont 05401
802-864-6844
sbrennan@ fffinc.com