---
Vermont Neighborhoods Task Force update
The VNTF is an aiaVT supported group comprised of design professionals from many disciplines who have an interest in improving current residential development patterns in Vermont. More...
Better Buildings By Design Conference Returns to Vermont in 2009
The region's premiere conference on design and construction durability, efficiency, and value returns to the Sheraton Conference Center in Burlington on February 11-12, 2009. More...
CAN you believe it?
Another CANstruction season has come and gone, and all that is left to do is congratulate the participants, thank the sponsors, and as Architects mercilessly criticize the entries. More...
I'm asking you for the last time...
Where were you on the night of December the 11th?! More...
---
Vermont Neighborhoods Task Force update
By Shawn Brennan, AIA
The VNTF is an aiaVT supported group comprised of design professionals from many disciplines who have an interest in improving current residential development patterns in Vermont. As part of previous articles in this newsletter you have learned that the VNTF strives to educate the public as to the benefits of good design and to raise the profile of aiaVT as a community resource.

On November 18th at the Sheraton Hotel & Conference Center, two of our members agreed to give a presentation at the Vermont Housing Finance Agency's Vermont Statewide Housing Conference. This event was a collaboration between many groups, including VHFA and Smart Growth Vermont. It included 18 workshops ranging from the basics of affordable housing development in Vermont to an analysis of the various components that contribute to the high cost of building new housing.

The VNTF was represented by selected presenters Susan Coddaire of studio b and Jim Drummond of Black River Design, who were part of a workshop that focused on how we can design high-density residential projects so they integrate smoothly into existing neighborhoods. Their fellow panelist were Emily Higgins of Champlain Housing Trust, Jim Mullen of the Town of Rockingham/Village of Bellows Falls, and Jason Van Driesche of Smart Growth Vermont.

Knowing that it would be impossible to cover the topic of good neighborhood design in such a short period of time, Susan and Jim used their time to outline 10 basic principles that encompass good design. The intent of this was to capture the interest of the attendees so that they would be willing to learn more.

The VNTF is an all-volunteer group and this first event has proven that it is an effective one with knowledgeable and motivated members. The group will be meeting again soon to build on the current momentum so please look for announcements in upcoming newsletters so that you can attend and add your voice to this very important discussion.



Better Buildings By Design Conference Returns to Vermont in 2009
The region's premiere conference on design and construction durability, efficiency, and value returns to the Sheraton Conference Center in Burlington on February 11-12, 2009. Presented by Efficiency Vermont, the Better Buildings By Design Conference will offer 30+ interactive presentations on approaches and technologies that are being used in today's new and existing high-performance homes and commercial buildings. Conducted by leaders in the industry, sessions will be featured in four simultaneous tracks on building envelope, mechanical systems, lighting, and innovations/high performance. More than 1,000 attendees are expected.The conference keynote address, "Practical Ecology: High-Quality, Low-Cost, Green-Built Homes", will be given by homebuilder, developer, and author Fernando Pagés, who advises cities, developers, builders, and homeowners around the world on building high-quality, affordable, and energy-efficient homes. A builder with 30 years of experience who has won national green-building awards, Pagés is the author of Building an Affordable House and Affordable Remodel. In 2006, the U.S. Department of Housing and Urban Development's PATH project chose him to build America's first PATH Concept Home, a home that is affordable to purchase and to maintain while meeting the criteria of LEED for Homes, ENERGY STAR®, MASCO Environments for Living, and the NAHB Green Building certifications. Conference participants will be able to earn continuing-education credits from a range of professional organizations, including AIA, Building Performance Institute, Construction Specifications Institute and Residential Energy Services Network. Registration discounts are available to groups of four or more. Special pricing is available for lodging accommodations at the Sheraton Burlington. For more information, visit www.efficiencyvermont.com/conference or call 877-248-9900.
CAN you believe it?
By Shawn Brennan, AIA
Another CANstruction season has come and gone, and all that is left to do is congratulate the participants, thank the sponsors, and as Architects mercilessly criticize the entries. With our current economic difficulties, this event to help feed the hungry in our community is needed more than at any time before. Everyone involved should feel very proud of their contribution, and hopefully some of you out there will be inspired to participate next time in this always enjoyable experience. So without further ado, let's get to the awards tally.
Honorable Mention: "TiCANic" by Mater Christi School
Honorable Mention: "Kahnstruction" by Vermont Technical CollegeBest Meal: "Hungry Hungry Hippos" by Black River Design
Best Use of Labels: "Uncle Spam's Election CANpaign" by Breadloaf
Structural Ingenuity: "Leaning Tower of Peas-a" by Truex Cullins
Juror's Favorite: "Moove Over Hunger" by Morris-Switzer
There are photos for each, so take a look to see if you agree with these selections. Just remember to go easy on the kids at Mater Christi since they are still impressionable.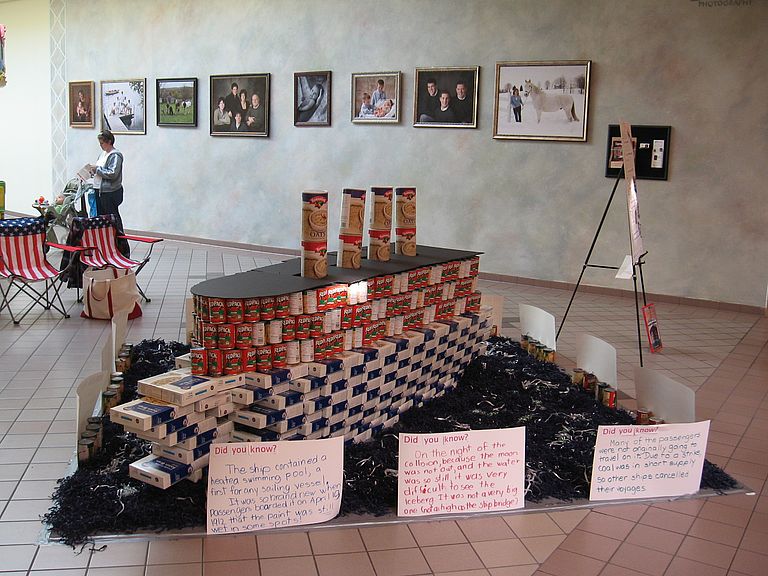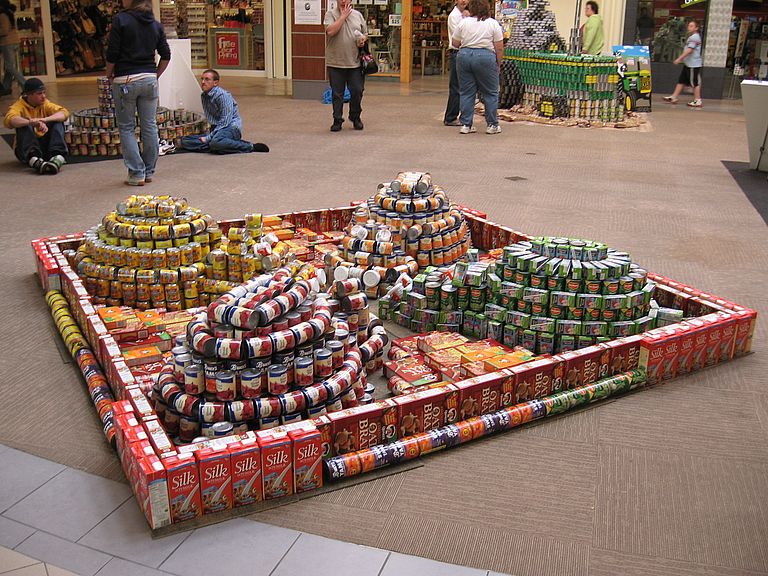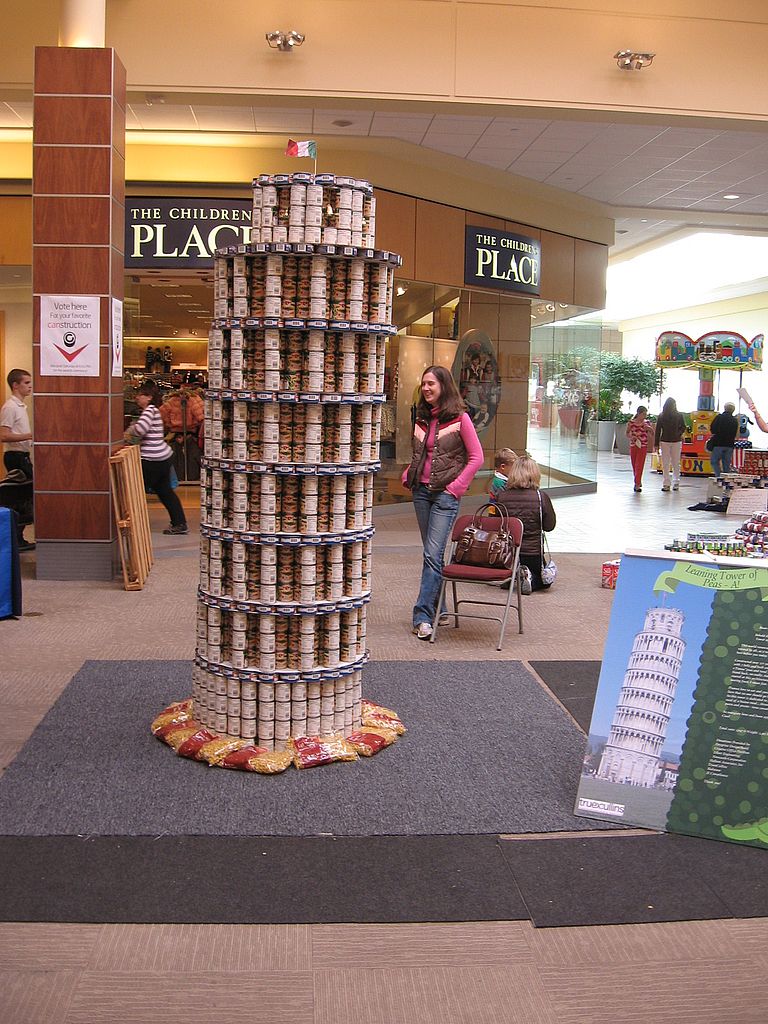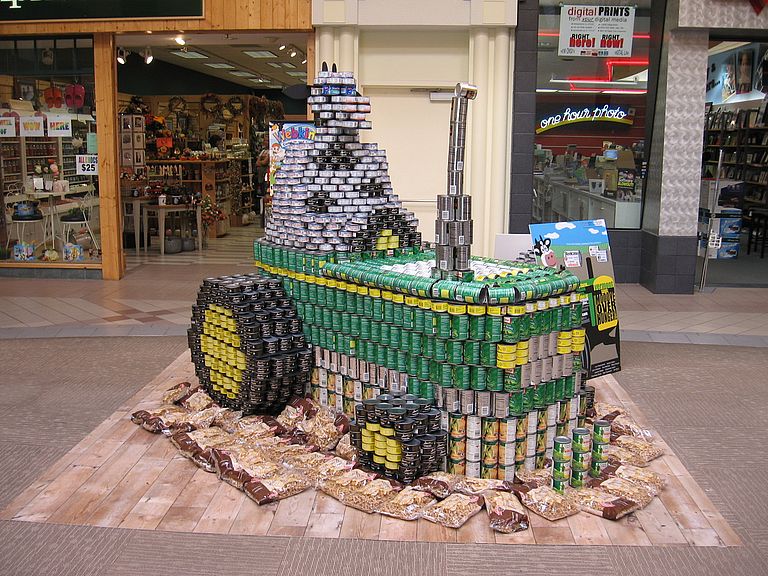 All the fire safety news that's fit to print
State of Vermont Department of Public Safety
Vermont Division of Fire Safety
Fire Safety News
November & December 2008

Building Safety Association of Vermont
The ICC Building Safety Association of Vermont (BSA-VT) invites all building professionals in Vermont to become a member and join our efforts to become a chapter of the ICC (International Codes Council, Inc.). Our Executive Committee has been working hard to complete the steps necessary for the organization to grow, and we are looking for more help from members to
develop our committee goals. The newly approved BSA-VT Bylaws establish four committees dedicated to furthering our mission – the committees are Finance, Membership, Education, and ICC Code Review. Our mission is to advance the professionalism of and provide assistance to code officials, design professionals, builders, manufacturers and others involved
in the construction process to help improve public health and safety throughout the State of Vermont.
Please join us on November 13 at the Home Builders and Remodelers of Vermont conference room in Williston at 10:30am and complete your membership application. We need your help!
If you cannot attend the meeting, but you would like to join and participate in future events, please contact Rob Pickett (robpickett@vermontel.net) or Ward Smyth (wsmyth@turtlecreekbuilders.com) for a copy of the Membership Application and Bylaws.
We are also holding a competition for a logo design for the Association. The logo design should incorporate a proposed acronym for the Association (BSA-VT is not formally adopted). Please submit your design no later than 11-12-08 to Rob Pickett. All submitted designs will be revealed at the Nov. 13 meeting. The winner will receive their first year membership FREE – a $30 value!
For questions contact: Rob of RobPickett &Associates [Phone & Fax] (802) 436-1325 [Mobile] (802) 738-9230 or Robert Howe [phone] (802) 479-7566 [ em ail] rhowe@dps.state.vt.us [fax] (802) 479-7562
State of Vermont Department of Public Safety
Division of Fire Safety
Fire Safety News
December 2008

2008 National Electrical Code now adopted
The new Vermont Electrical Safety Rules go into effect December 1, 2008. The rules include the adoption of:
• NFPA 70, the National Electrical Code, 2008 edition
• NFPA 73, the Residential Electrical Safety Code, 2006 edition
• NFPA 780, the Lightning Protection Code, 2004 edition
• ANSI C2, National Electrical Safety Code, 2007 edition
In addition to updating these nationally recognized safety standards used in the industry, the rules clarify certain details of the licensing process for electricians. A copy of the rules can be obtained at any office of the division or on line at www.dps.state.vt.us/fire/licensing/Electrical.htm .


Insulation, use of Foam Plastic
The use of foam plastic, as either rigid foam boards or spray-applied insulation, raises serious fire safety concerns. Increased emphasis on energy efficiency has resulted in increased use of rigid foam board and spray applied foam plastic as insulation material.
The 2003 edition of the International Building Code (IBC) regulates the use of foam plastic insulation materials in buildings. Chapter 26 requires that all foam plastic materials be listed by a recognized testing laboratory (Section 2603.2) and that all materials have a flame spread index not exceeding 75 or a smoke-developed index of not more than 450 where tested at their maximum intended thickness (Section 2603.3). Additional requirements beyond the surface-burning characteristics of these materials are included in Section 2603.4 of the IBC.
A thermal barrier must be provided when foam plastics are exposed to the interior of a building. This thermal barrier may be ½ inch gypsum wallboard or equivalent material that will remain in place for not less than 15 minutes, based upon FM 4880, UL 1040, NFPA 286 or UL 715 tests. Materials used to provide the required thermal barrier must be listed for this use.
Less stringent requirements exist for an attic or crawlspace where entry is made only for service of utilities. Foam plastic insulation in these spaces must be protected from ignition by use of 1 ½ inch mineral fiber insulation; ¼ inch wood structural panel, particleboard or hardboard; or 3/8 inch gypsum wallboard (Section 2603.4.1.6). Other exemptions can be found for the use of foam plastic insulation in Chapter 26, including use in walk-in coolers, roof assemblies and exterior walls.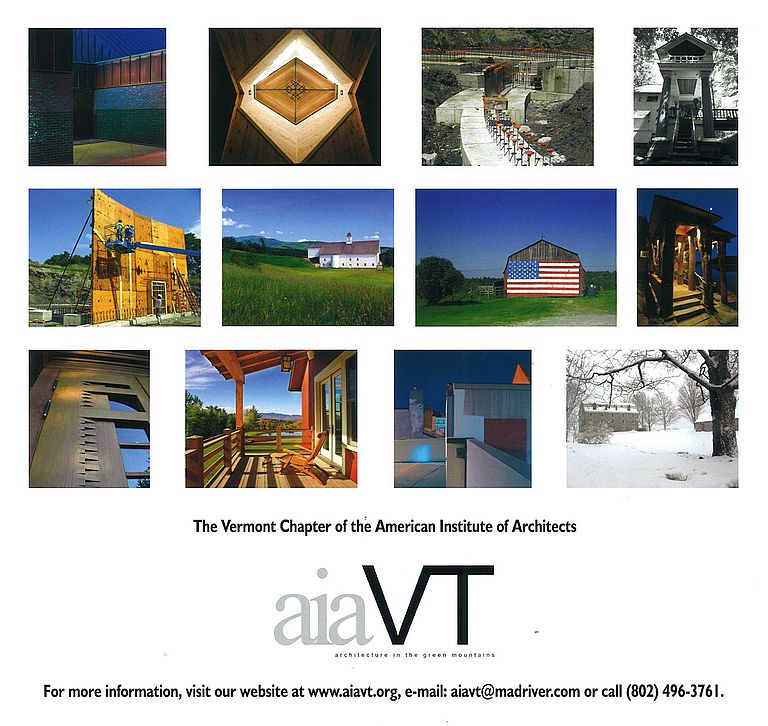 I'm asking you for the last time...
Where were you on the night of December the 11th?!
Maybe you've never had a hard boiled detective grilling you with a question like that, but if you did, wouldn't it be a relief to simply consult your beautiful aiaVT calendar for the answer? While sitting in that bare, starkly lit interrogation room, don't beat yourself up about being too stingy to shell out the 15 greenbacks for that high quality calendar…I'm sure the one being the "bad cop" will be happy to do the beating for you. Why don't you just save yourself a lot of trouble and taxpayer's money and get an aiaVT calendar? That way, when Dirty Harry Jr. asks you where you were on the night of December the 11th you can look him right in the eye and proudly declare "I was at the annual aiaVT dinner and I have this fantastic calendar to prove it!"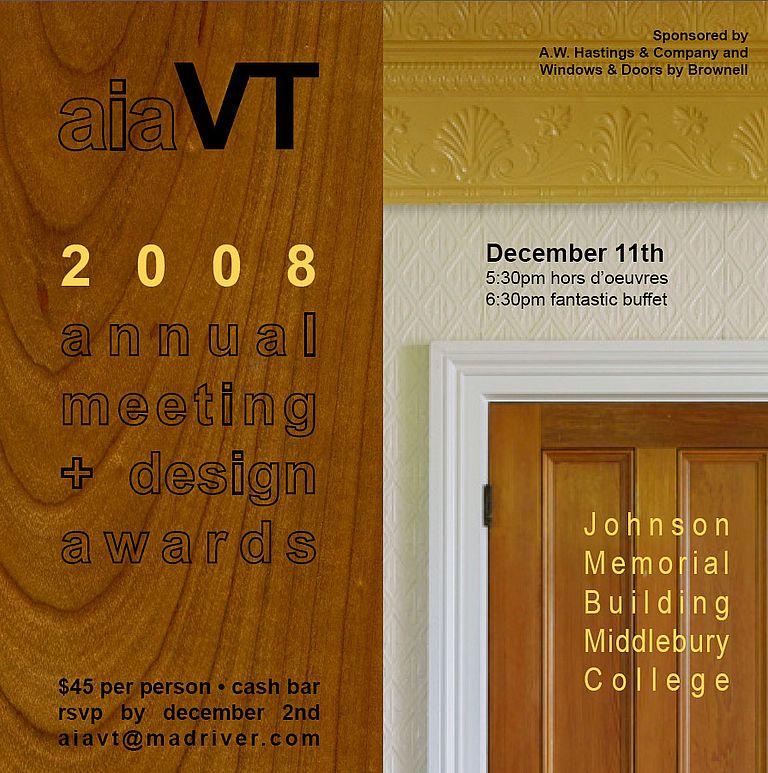 News Item - Architects Leading the Sustainable Evolution
AIA ResourCES
November 19, 2008

Sir Winston Churchill once said, "We shape our buildings, and afterwards our buildings shape us." At no other time have these words been more poignant than they are today. Our environment is a precious resource, and we, as designers of projects that have an impact on the environment, share a responsibility for maintaining an awareness of, and proficiency in, the ever-expanding field of sustainable design.
In response to these new demands the AIA Board voted to modify the AIA's annual education requirements to include a minimum four hours of education in sustainable design (SD). Beginning in January 2009, four of your required 18 annual learning units must focus on sustainable design. Learning units that qualify for sustainable design will also apply to the annual health, safety, and welfare (HSW) requirement.
All qualifying courses in sustainable design offered by AIA Continuing Education System (CES) Registered Providers will be identified as such, as are those courses and programs that carry HSW learning units. The AIA/CES team is working with our providers to offer members more education opportunities to fulfill this new requirement—including education opportunities that qualify for sustainable design learning units during the AIA National Convention.
You may also report programs offered by non-AIA/CES-registered providers that meet the sustainable design qualifying criteria through the Structured Self-Report Program. Remember, however, that self-designed educational activities do not qualify for either SD or HSW learning units.
Program content qualifies for sustainable design learning units based on the AIA Committe On The Enviroment (COTE) Top Ten Measures of Sustainable Design and the AIA Sustainability Discussion Group's (SDiG) 50to50 carbon reduction strategies.
For more detailed information about qualifying criteria, click on the AIA COTE Top Ten Measures of Sustainable Design below:
• Sustainable Design Intent and Innovation
• Regional /Community Design and Connectivity
• Land Use and Site Ecology
• Bioclimatic Design
• Light and Air
• Water Cycle
• Energy Flows and Energy Futures
• Materials and Construction
• Long Life/Loose Fit
• Collective Wisdom and Feedback Loops
If you have questions regarding the new sustainable design education requirements, please contact AIA Continuing Education at SDCE@aia.org.



News Item - Architecture firm wins Small Business of the Year
Freeman French Freeman received the 2008 Small Business of the Year Award from the Lake Champlain Regional Chamber of Commerce.
Jesse Beck, President, accepted the award on behalf of the 24-member firm at the Chamber's annual dinner in November. He thanked the firm for its award-winning talent and clients for "sharing our passion for enduring and sustainable design."





News item - aiaVT welcomes...
The Vermont chapter of the American Institute of Architects wishes to welcome our newest member: Evan Champagne, Assoc. AIA, Colchester.
News Item - LEED for Neighborhood Development 2009 Open for Public Comment
U.S. Green Building Council

USGBC is pleased to invite the public to comment on the LEED for Neighborhood Development Rating System, which integrates the principles of smart growth, new urbanism and green building into the first national system for neighborhood design. The program is a collaborative effort between USGBC, the Congress for the New Urbanism, and the Natural Resources Defense Council.

This rating system is built upon the LEED for Neighborhood Development Pilot Rating System, which nearly 240 projects have been using since July 2007 as part of a successful pilot program. Eighteen projects have been certified. Their invaluable feedback, combined with countless hours of USGBC volunteer time, has produced a more sophisticated, market-responsive rating system.

Any member of the public may submit comments. To view the rating system draft and comment, please go the LEED Rating System Drafts webpage. The public comment period will be open from November 17th through January 5, 2009 at 11:59 PST.

For more information about the LEED for Neighborhood Development program please visit our website.


News Item - Institutional sector reports first slowdown in four years
By Jennifer Riskus
Economics and Research Manager

AIArchitect
Volume 15, October 28, 2008

Billings at architecture firms tumbled in September on the heels of turmoil in international credit markets, generating increased economic uncertainty. However, firms still are reporting interest in new projects as indicated by September's inquiries score remaining above 50. Overall, business conditions remain weak in all regions of the country, and firms with an institutional specialization, the one construction sector that had yet to be affected by the downturn, reported its first slowdown in nearly four years. Nearly all our survey panelists reported that their firms were directly feeling the effects of ongoing problems in financial markets, and client problems with financing was reported as the most serious current problem.


Insert ubiquitous "green" phrase here
U.S. Green Building Council
Advocacy & Policy Update November 2008

The New Agenda: A New Energy Economy and 5 Million Green Jobs
With more than 500 energy and climate advisors, President-Elect Barack Obama campaigned on an aggressive and detailed plan to strengthen the economy, spur green job creation, and protect the environment.
Harnessing the amazing momentum and progress of the green building community, USGBC is now working to promote sound policies in the next administration that will stimulate a green economy, create millions of green jobs, reduce greenhouse gas emissions, advance greener, more energy-efficient buildings, and spur green infrastructure. The following policy proposals, advanced by the President-Elect during the campaign, offer particular promise for advancing green building:
• Green Building: President-Elect Obama has proposed the expansion of federal grants to assist states and localities in building more efficient public buildings through the use of LEED. In addition, under President-Elect Obama's plan, all new federal buildings would have to be carbon-neutral by 2025. This plan also would commit all new federal buildings to a 40% improvement in efficiency within five years and would seek a 25% improvement in the efficiency of existing federal buildings within the same period.
• Building Efficiency Goals and Incentives: President-Elect Obama has proposed a goal of carbon-neutrality for all new buildings by 2030. This will be achieved by establishing a goal of 50% greater building efficiency for new buildings and 25% greater efficiency for existing buildings over the next decade. Under the plan, the federal government would award grant funds to states and localities that implement new, energy efficient building codes, and would provide matching grants to states that promote building retrofitting through public benefits funds.
• Green Jobs and Job Training: President-Elect Obama has proposed an investment of $150 billion over 10 years to spur the development of renewable and other technologies, promote energy efficiency, and advance new fuel and smart electricity infrastructure. This plan would direct funding to the manufacturing sector for job training and transition programs, and would create an estimated 5 million new green jobs. Additional training programs, including a Green Jobs Corps for disadvantaged youth and a Clean Energy Corps, have been proposed to stimulate the development of a highly skilled workforce.
• Transportation and Infrastructure: President-Elect Obama has proposed the consideration of smart growth principles in the transportation funding process, as well as renewed support for public mass transit projects. The President-Elect's proposed plan also includes the creation of a National Infrastructure Reinvestment Bank to direct $60 billion over 10 years to infrastructure projects that could create some 2 million new jobs and $35 billion annually in economic activity.
With strong federal support, the green building community will be able to accelerate its spectacular wave of growth and innovation, and help ignite a rebuilt, revived green economy. USGBC looks forward to working with the new administration to support these and other initiatives that create jobs, save money and energy, and promote the creation of sustainable buildings and communities.


---
The aiaVT newsletter is published by AIA Vermont, the Vermont Chapter of the American Institute of Architects.
Executive Director: Hanne Williams, Hon. AIAVT
aiavt@ madriver.com
1662 Mill Brook Road
Fayston, Vermont 05673
p 802.496.3761
f 802.496.3294
aiaVT is edited by Shawn Brennan, AIA.
Published views are the author's and not necessarily the views of AIA Vermont or any other organization.
AIA Vermont reserves the right to edit articles for available space and determine appropriate content prior to inclusion. Submissions must be received by the 15th of the month prior to publication.
Please send articles, notices, letters, and graphic submissions to:
Shawn Brennan, AIA
Freeman French Freeman, Inc.
81 Maple Street
Burlington, Vermont 05401
802-864-6844
sbrennan@ fffinc.com