---
aiaVT President's column
At last year's Annual Meeting, we announced the theme of Modern Architecture for the upcoming year. And I am pleased now, almost a year later, to recap a fun, interesting, and successful series of events... More...
2nd Annual aiaVT Academic Scholarships Fundraiser & Golf Tournament
Once a year, a mysterious if not magical event occurs. Architects, Engineers, Vendors, and CONTRACTORS all band together to form an alliance for the selfless act of others. More...
aiaVT awards: Getting more for less!
Despite the fact that this year's aiaVT awards are rumored to be more numerous than in recent years, aiaVT is bringing them to you for less. More...
Vermont Field House Becomes First Net-Zero Energy Secondary School Building in Nation
The Putney School, a college preparatory boarding high school in southern Vermont, cut the ribbon Saturday on its 16,800 square foot net-zero energy field house that will produce as much energy as it uses over the course of a year. More...
---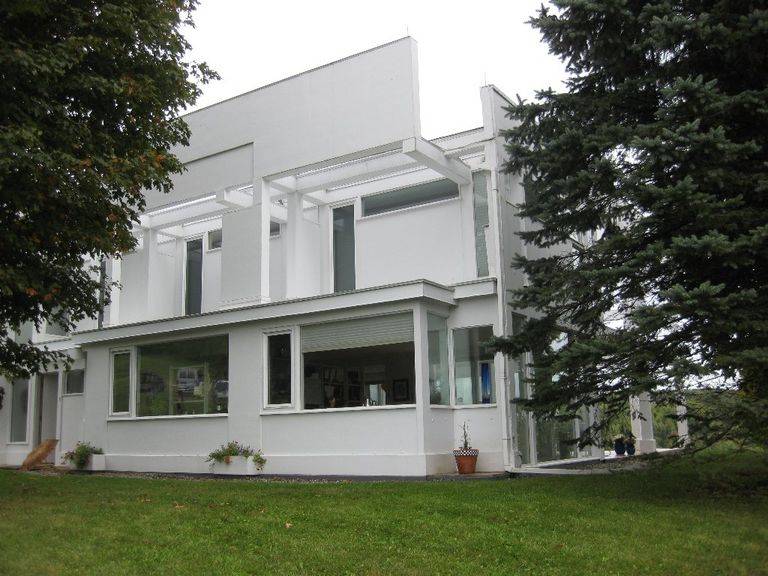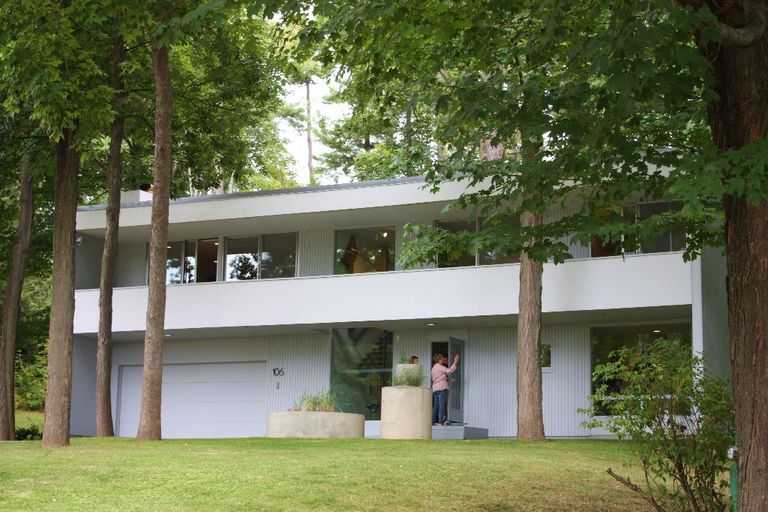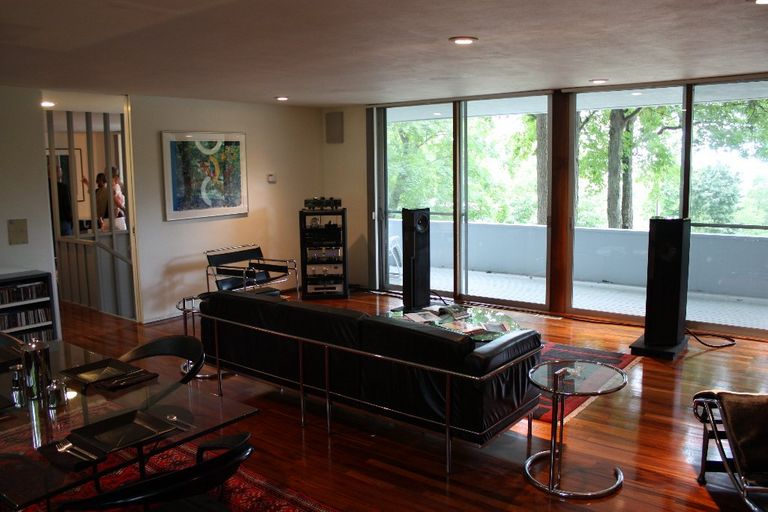 aiaVT President's column
By John McLeod, AIA
At last year's Annual Meeting, we announced the theme of Modern Architecture for the upcoming year. And I am pleased now, almost a year later, to recap a fun, interesting, and successful series of events that have transpired thanks to a lot of work and generosity by many people.
AIA VT decided to take on the topic of Modern Architecture as part of our larger mission to encourage learning, discussion, and exchange of ideas—among ourselves, and with the general public—in an effort to foster good design. More specifically, we wanted to consider the question, "What will the architectural historians say about our era?"
A series of three major programming events commenced in March with a lecture titled, "Dreams + Nightmares: A Primer on the History and Theory of Modern Architecture." The lecture was presented at Burlington City Hall by Michael Hoffman, Associate Professor at Norwich University, AIA VT board member, and President Elect of AIA New England. A good turnout of professionals and the general public enjoyed Michael's overview of Modernism as a movement, and continued the discussion at a watering hole up the street.
In June, a roundtable discussion with architects, builders, and teachers took place at Vermont College of Fine Arts in Montpelier. The turnout increased—again a healthy mix of designers and 'lay' people—and the discussion focused on working with modern architecture in Vermont. The panel included Marcel Beaudin, who is celebrating his 50th year in private practice this year and brought a wonderful perspective to the discussion. (This event was video-recorded, but we are still looking for an ftp site or server to host the large file, with a link on the AIA VT website. If anyone could host, please let us know.)
Finally in September, a combination lecture/open houses event concluded the programming series. Glenn Andres, Professor of Art History and Director of the Arts at Middlebury College, and co-author of the forthcoming book Buildings of Vermont, delivered a Thursday evening lecture at UVM titled, "Confronting Modernism in Vermont." The presentation addressed Vermont's distinctive relationship with modern architecture and its role in the state's contemporary self-image. We had the largest audience yet, and the event was video-recorded and re-broadcast on the Burlington public access television channel.
On Saturday of the same weekend, ten modern houses around the state were opened to the public, free of charge, with homeowners, architects, and builders on hand to lead tours and answer questions. Open houses were located in Burlington, the Champlain Valley, the Mad River Valley, the Upper Valley, southeastern Vermont, and the Northeast Kingdom. The lineup included Peter Eisenman's (in)famous House II in Hardwick, a significant landmark in Post-Modern architecture. The house tours were extremely well attended and enjoyed by the public, so we will likely do them again. Please let us know if you have a house you would like to nominate.
As an outgrowth of the Modern Architecture series, Glenn Andres and I were asked to be on VPR's Vermont Edition with Jane Lindholm, to discuss "A Regional Approach to Modern Architecture." You can listen to the program, review post-show discussion, and view a "Vermont Modern Architecture" photo gallery at www.vpr.net/news_detail/85839/ and www.vpr.net/episode/46913/. Vermont Edition was an excellent forum and opportunity for continuing the public discussion of architecture in Vermont.
I hope that everyone has benefitted from the discussion in some way—the public and the profession.
I would like to take this opportunity to recognize and extend thanks to all those who helped with the Modern Architecture series:
AIA VT Board of Directors
Ben Allred
John Anderson
Glenn Andres
Marcel Beaudin
Turner Brooks
Wendy Cox
Don DeFeo
Gregg Gossens
Parker Huber
Gregory LaVardera
Brian Mac
John and Lydia Makau
Northern Timbers Construction - Alex Carver and Chris North
Michael and Pat Rosenberg
Michael Singer Studio
Hanne and Arthur Williams
2nd Annual aiaVT Academic Scholarships Fundraiser & Golf Tournament
By Joe Greene, AIA
Once a year, a mysterious if not magical event occurs. Architects, Engineers, Vendors, and CONTRACTORS all band together to form an alliance for the selfless act of others. This year, in the midst of a cool and overcast September day, 64 enthusiastic participants gathered at the Country Club of Vermont, in Waterbury, to test their skills, demonstrate their abilities and of course experience one of life's true lessons in humility. GOLF! Throughout the day teams scrambled to make a winning score. Men and women, chasing after that elusive white sphere that can with a simple bounce result in a thunderous ovation or gut wrenching moans. Echoing throughout the beautiful setting that is the Country Club of Vermont was the sounds of laughter, golf balls rattling around in the trees and of course, occasionally, that one little word that instantly strikes fear into even the bravest men and women: FORE! The day came to a close with a wonderful meal on the patio while prizes were distributed and anecdotes were shared as the sun graced us with its presence as it sat low in the sky over Camel's Hump.
With the economic roller coaster that we are all riding, it is now more important than ever to help secure a strong future for the design and construction professions. Quality and experienced architecture begins with a quality education. One that is not always affordable for our young people. It is our goal as members of an organization of licensed professionals to continue to support and encourage higher education for all those entering the fields of architecture and construction.
The scholarship program began in 2007 with a matching grant from the National AIA and the Architectural Foundation for $500. We awarded a scholarship of $1,000. In 2008 we received a matching grant for $2,000 and awarded two scholarships of $2,000 each. Prior to that AIA Vermont gave $500 awards to the Norwich University students' "Best of Show" competition and academic awards were granted as two graduation awards of $500 each to VTC Students (best scholastic record and most improved). Last year our inaugural golf tournament event raised just under $4,000 that has been distributed as a $2,000 scholarship to Norwich University and $1,500 in Academic Awards. This year we are ecstatic to have raised $3,200.
This is a very fun and easy way for our organization to provide financial support to those students that are not only pursuing a career in our field but, are also attending the academic institutions within our state that offer and support architectural programs. I know many of you may view this as a "Golf Tournament" and because you don't golf, it doesn't apply to you or, you have no interest. I encourage you to use your finely honed sense of vision to see the proverbial forest through the trees. This is a fund raising opportunity. The golf event is simply the vehicle that allows us to attract major donors. Whether you golf or not, you can participate in this much needed program. Planning and executing this event requires a year long effort by many people and as we all know many hands make light work. Everything from organizing the venue to contacting donors and sponsors, to gathering auction/raffle items to event day volunteers is needed. Or, if you're schedule just doesn't permit it, even a simple donation of cash or merchandise always goes a long way.
I'd like to take a moment to especially note and thank Marsha Wilmot and Guy Teschmacher of Black River Design for their tireless efforts in helping to put this event together. Also, want to extend a special thanks to Nicole LaBrecque, Lisa Rovner and Lauren Davis for their volunteer efforts the day of the event.
SO, SAVE THE DATE! SEPTEMBER 15, 2010 has been reserved at the Country Club of Vermont for our 3rd Annual AIA Vermont Academic Scholarships Fundraiser and Golf Tournament.
While there will always be low scores, the true winners of this event are the students and recipients of the scholarships and academic awards.
aiaVT awards: Getting more for less
Despite the fact that this year's aiaVT awards are rumored to be more numerous than in recent years, aiaVT is bringing them to you for less. The price of attendance to this year's annual meeting has been lowered to just $30 per person. There's no gimmick; the slide show won't be for time share opportunities and you don't have to wash any dishes. This event is for all aiaVT members and the Board wants everyone to be able to attend. Don't forget that the 2010 aiaVT calendars will be there hot off the press. The first one is free and each additional calendar is only $5. It features the thirteen winning entries of this year's photo contest…obviously one photo for each month. Buy some as gifts and feel good all holiday season knowing that the money goes directly to the aiaVT scholarship program. We hope to see you at the event!
The fine (or not so fine?) print
If your architecture firm has done work for the state of Vermont then you've probably signed the state's contract for services. I wouldn't be surprised if your professional liability insurance provider came rushing to your office flailing their arms wildly like the robot in Lost In Space yelling "Danger! Danger!". If you want the work then you don't have a lot of choice but to sign on the dotted line, especially in this economic climate when the Akwesasne Mohawk Casino is shaping up to be your 401k plan "B". If you've ever wondered what aiaVT is good for besides putting on butt kicking programs, one of our primary missions is to look out for the interests of Vermont Architects…like one of those special interest groups. The aiaVT Board was recently contacted by an out of state Architect complaining about some particular language in the state contract. Here is what it says in Appendix II, Attachment C of Bulletin No. 3.5 Contracting Procedures:
5. Independence, Liability: The Contractor will act in an independent capacity and not as officers or employees of the State.
The Contractor shall defend the State and its officers and employees against all claims or suits arising in whole or in part from any act or omission of the Contractor or of any agent of the Contractor. The State shall notify the Contractor in the event of any such claim or suit, and the Contractor shall immediately retain counsel and otherwise provide a complete defense against the entire claim or suit.
After a final judgment or settlement the Contractor may request recoupment of specific defense costs and may file suit in Washington Superior Court requesting recoupment. The Contractor shall be entitled to recoup costs only upon a showing that such costs were entirely unrelated to the defense of any claim arising from an act or omission of the Contractor.
The Contractor shall indemnify the State and its officers and employees in the event that the State, its officers or employees become legally obligated to pay any damages or losses arising from any act or omission of the Contractor.
For the overall context please review http://aoa.vermont.gov/sites/aoa/files/pdf/AOA-Bulletin_3_5.pdf. This article is not an attempt to persuade anyone on how to view this clause. This issue was pointed out the aiaVT Board and it seemed appropriate to educate aiaVT members to allow them to voice their opinion to the Board so it can be an effective advocate. Please let them know what you think.
Vermont Field House Becomes First Net-Zero Energy Secondary School Building in Nation
The Putney School, a college preparatory boarding high school in southern Vermont, cut the ribbon Saturday on its 16,800 square foot net-zero energy field house that will produce as much energy as it uses over the course of a year. There are only a handful of net-zero energy buildings in the United States—The Putney School Field House is the nation's first net-zero energy secondary school building and Vermont's first commercial net-zero energy building. Of the project's $6 million budget, $5.1 million was spent on building construction.
"We want to show the world that net-zero energy technology for public buildings exists right now," says Putney School Director Emily Jones. "It's time to move net-zero energy buildings from the theoretical realm into reality."
By definition, net-zero energy buildings generate as much energy as they consume over the course of a year. The energy used is usually produced on-site and comes from renewable energy sources such as wind, solar, geothermal, or biomass. These buildings are designed to minimize the use of natural resources and energy. According to Architect Bill Maclay, whose firm designed The Putney School Field House, such buildings not only protect the environment by minimizing energy use and reducing the need for outside (fossil fuel- based) energy sources, they pay for themselves through improved efficiency and lower operating costs and help avoid the risks associated with fuel price volatility. Over the course of a year, the total energy bill will be zero.
"There are only a handful of net-zero energy buildings in the nation," says Bill Maclay, president and founder of Maclay Architects. "Our hope is that this will be one of the first of many such buildings. This will show the world that our buildings can—and should—be built to meet much stronger energy standards to not only protect the environment but also to improve an organization's bottom line."
The super-insulated, super-energy-efficient building will use the sun for its heating (including passive solar) and electricity needs. Sixteen sun-tracking photovoltaic solar panels will power the building and, in an average year, will enable the building to do better than break even on its energy use. During the winter months the building will draw electricity from the grid. During sunny months, the photovoltaic cells will feed excess energy back into the grid. According to Project Architect Bill Gallup, in addition to paying no energy bill, The Putney School will actually receive 6 cents per kilowatt-hour for electricity fed back (net-metered) into the grid.
"This spacious building will be both a snapshot of sustainable building technology at this point in history and an educational tool for other schools whose curricula include sustainability," says Putney School CFO Randy Smith.
The Putney School will have real-time energy monitoring data available to the public on their website when the building is certified for occupancy in November 2009.
In addition to being the first net-zero energy secondary school building in the nation, the design team anticipates that The Putney School Field House will be one of only five platinum (the highest possible rating) LEED-certified school buildings in the country. LEED, Leadership in Energy and Environmental Design, is the nationally-accepted standard and rating system for high performance (green) buildings developed by the U.S. Green Building Council.
For more information, visit: www.putneyfieldhouse.org.
Talking Green: The Legal Hazards of "Green" Building Advertisement
By Andres Quintana, Esq., Quintana Law Group, APC
"GOING GREEN". Few marketing taglines have burgeoned into our jargon as rapidly as this largely ambiguous play on words. This is no surprise. Escalating energy costs, increased consumer acumen about environmental accountability, and greater demand for eco-friendly products and services have sprouted a variety of "green"-related industries, including "green building". However, city, state and federal regulations and statutes related to "green" advertising may impose risks on design professionals if "green" advertising laws are not duly adhered to or deceptive or misleading "green" building claims are made about designs, building materials or furnishings. This article briefly summarizes the potential sources of legal risks associated with deceptive "green building" advertising.
FTC Green Guides And Eco-Friendly Claims.
For over a decade, the Federal Trade Commission ("FTC"), through its Guides for the Use of Environmental Marketing Claims ("Green Guides"), has overseen advertising claims related to eco-friendly products. The FTC started to revise the Green Guides in 2008 to focus on new environmental terms about "green" building marketing—such as those for carbon offset claims. The Green Guides also provide guidance for the use in consumer advertising of specific buzz terms like "sustainability" and "renewability," and also address "greenwashing"— a term describing the disingenuous business practice of misleading consumers about the environmental benefits or performance of a product or service. With respect to all environmental claims, the Green Guides require product manufacturers and service providers to procure scientifically valid information supporting the claims before making them.
According to the Federal Trade Commission Act, the FTC has authority to charge a person or business for making deceptive or unsubstantiated "green" claims. Penalties for deceptive advertising include agency orders requiring businesses to (a) repay (in full or in part) monies paid by consumers who purchased falsely advertised products; (b) issue advertisements intended to correct the detriment caused by previous deceptive or misleading advertising; (c) provide frequent reports to the FTC to substantiate new advertising claims; and (d) cease and desist from further making deceptive or misleading advertisements.
Consequently, design professionals and builders should use caution in specifying and recommending products, building materials and furnishings that purportedly offer environmental benefits and demand that vendors and manufacturers making such claims meet the FTC's guidelines. Likewise, design professionals and builders should be careful when using appellations like "green", "renewability" or "sustainable" without grasping what these terms signify and should be able articulate those concepts to their clients. Design professionals should also make measurable (not subjective) representations about "sustainability" that can be verified by a credible, independent third-party evaluator as well as manage their client's apprehension and ambitions by clearly annotating what clients can really expect from "green" residences.
State Law Regulation of "Green" Claims.
Depending on the State, deceptive or misleading "green" advertisements may be litigated or contested by consumers (or State attorneys general acting on behalf of consumers) under consumer protection statutes related to deceptive advertising, consumer fraud, or unfair business practices. A handful of States have enacted laws particularly governing environmental advertising claims. If so-called "eco-fraud" lawsuits related to "green" building or design begin to emerge similar to other products and industries, it is reasonable to anticipate more States enacting similar "green" advertising laws. Thus, in addition to the Green Guides, design professionals should also be mindful of actual or potential State advertising regulations.
Possible Application Of Federal Law To "Green" Claims.
A separate federal statute known as the Lanham Act prohibits deceptive or misleading representations in the advertising of goods, services or commercial activities. Lawsuits under the Lanham Act are a risk where a competitor believes another's "green" claims are deceptive or misleading. Although this federal law has not yet been used in court with regards to environmental advertising claims, its wide scope could make it a means to address "greenwashing." This federal law provides no cause of action to consumers; only business competitors may bring private enforcement lawsuits. Thus, under the Lanham Act, unverified, subjective (intentional or unintentional) overstatements of environmental benefits or performance may theoretically result in additional legal exposure to design professionals from their competitors.
Industry Regulation And "Green" Claims.
The United States Green Building Council (USGBC), a non-profit organization, devised the Leadership in Energy and Environmental Design (LEED) rating system to identify and implement practical and measurable "green" building design, construction, operations and maintenance solutions. The system is credit-based, allowing projects to earn points for environmentally friendly actions taken during construction and use of a building. While, the advantages and concerns over the LEED scoring system are still debated, LEED is generally considered an important measurement tool for "green" design.
Legally speaking, it is reasonable to assume that a LEED certified design professional could rely on the certification in defense of accusations of deceptive or misleading "green" advertising. However, it is noteworthy that no published legal decisions currently exist scrutinizing the LEED criteria or the legal affect of LEED certification in connection with deceptive or misleading "green" building claims, let alone any published decisions in which such criteria or certification was asserted as a defense to these types of advertising claims. While seemingly influential, the LEED criteria and rating system have not been codified into federal law.
ABOUT THE AUTHOR
Andres Quintana, Esq. is the principal at the Quintana Law Group, APC, an intellectual property law firm in Los Angeles County, California. He may be reached at andres@ QLGLAW.com or (818) 914-2100. For more information about the Quintana Law Group, APC, please visit www.QLGLAW.com.
News Item - You can't fight City Hall
All the entries for the 2009 AIA Vermont Design Award Competition are now on exhibition at Burlington's City Hall in the Metropolitan Gallery. The show will be there until December 7th so that the public can vote for a "People's Choice Award". Please take the opportunity to vote for your favorite project!
---
News Item - 2010 Efficiency Vermont Awards
By Susan Coleman, VEIC

Efficiency Vermont is pleased to announce the 2010 Best of the Best in Commercial Building Design & Construction Awards.

Entries are now being accepted for this competition that recognizes innovative and integrated design approaches for energy efficiency in Vermont's commercial, institutional, industrial, and multifamily buildings. Awards will be presented in the categories of New Construction and Major Renovation (Gut Rehab).

All entries will be showcased at Efficiency Vermont's Better Buildings By Design Conference, taking place February 10 and 11, 2010, at the Sheraton Conference Center in Burlington, Vermont. In addition, winners will receive a framed certificate of recognition along with promotion in a variety of trade and consumer media outlets, including Vermont Business Magazine and aiaVT's member newsletter.

Completed entries are due by December 10, 2009.

We welcome and encourage your participation, and look forward to receiving your entry.


---
News Item - aiaVT welcomes...
The Vermont chapter of the American Institute of Architects wishes to welcome our newest members: Eleanor D'Aponte, AIA, Waitsfield, Marc Dowling, AIA, Burlington Naomi Racenet, Assoc. AIA, St. Johnsbury and Kevin Racek, AIA, Burlington.
---
News Item - Better Buildings By Design Conference Returns to Vermont
The region's premier design and construction conference returns to the Sheraton Conference Center in Burlington on February 10-11, 2010. Presented by Efficiency Vermont, the Better Buildings By Design Conference will offer 30+ interactive presentations on approaches and technologies that are being used in today's energy-efficient homes and high-performance commercial buildings. Conducted by leaders in the industry, sessions will be featured in four simultaneous tracks on building envelope, lighting, mechanical systems, and innovations/high performance. More than 1,000 attendees are expected.
The keynote address, "Beyond the Foundation: Using Consumer Insights to Build the Energy Efficiency Market", will be given by Suzanne Shelton, President and CEO of the Shelton Group. A national expert on consumer attitudes and behaviors related to energy efficiency and sustainability, Ms. Shelton will focus on methods that successfully motivate customers to choose energy-saving approaches. Ms. Shelton is a member of the LEED for Homes Corresponding Committee and of the Alliance to Save Energy International Committee.

Conference participants will be able to earn continuing education credits from a range of professional organizations, including American Institute of Architects, Building Performance Institute, and Construction Specifications Institute.

Groups registering four people for the conference will receive a free fifth registration. Special pricing is available for lodging accommodations at the Sheraton Burlington. For more information, visit www.efficiencyvermont.com/conference or call 877-248-9900.


---
...Oh, and by the way...
AIA members are now required to have 4 hours of sustainable design education as part of their requisite annual 18 hours. This requirement took effect this year so at the end of 2009 you must have at least 4 hours of sustainable design CE credits. For more information on this go to www.aia.org/education/ces/AIAS076973.
---
The aiaVT newsletter is published by AIA Vermont, the Vermont Chapter of the American Institute of Architects.
Executive Director: Hanne Williams, Hon. AIAVT
aiavt@ madriver.com
1662 Mill Brook Road
Fayston, Vermont 05673
p 802.496.3761
f 802.496.3294
aiaVT is edited by Shawn Brennan, AIA.
Published views are the author's and not necessarily the views of AIA Vermont or any other organization.
AIA Vermont reserves the right to edit articles for available space and determine appropriate content prior to inclusion. Submissions must be received by the 15th of the month prior to publication.
Please send articles, notices, letters, and graphic submissions to:
Shawn Brennan, AIA
Freeman French Freeman, Inc.
81 Maple Street
Burlington, Vermont 05401
802-864-6844
sbrennan@ fffinc.com