Announcement of $7500 donation to the AIAVT Scholars Fund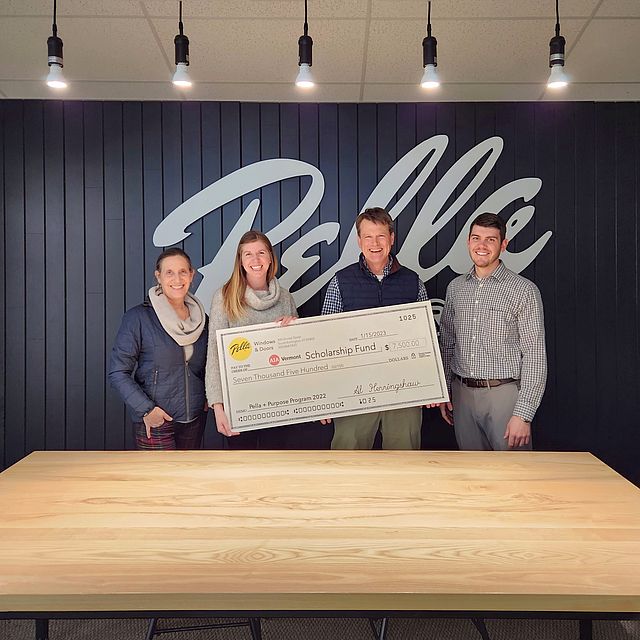 by Sarah O Donnell, AIAVT Executive Director
A new initiative by Pella Windows & Doors of South Burlington was rolled out in 2022, the "Pella + Purpose" program kicked off last year with the commitment to donate $150 to the AIAVT Hanne M. Williams Scholar Recognition Fund (aka the Scholars Fund) on behalf of every design professional who completed two Pella CEU sessions.
Pella and AIAVT are pleased to announce that the Pella + Purpose campaign successfully raised $7500 in 2022! Fifty participants from twenty-five firms were able to complete the programto raise this $7500 donation.
AIAVT's Board President, Eleanor D'Aponte, AIA, and Executive Director, Sarah O Donnell were presented with the donation on Thursday, Feb 9th at the Pella showroom in South Burlington by members of the Pella team, including Jeff Stetter, AIA, and Calvin Caswell.
The Scholars fund awards a variety of scholarships to students pursuing architecture and design studies each year. The scholarships are raised through proceeds from the Annual Guy Teschmacher Memorial Golf Tournament, as well as donations such as the Pella + Purpose program. The timing of the Pella + Purpose program couldn't have been better, as 2022 was the same year that the AIAVT Board of Directors voted to double the amount of scholarships AIAVT would award annually with total now at $12,000.
AIA Vermont's board of directors are thankful to Pella for creating this program, and for generously making AIAVT's Scholars Fund the recipient. At a time when the costs associated with attending college seem to be continuously on the rise, AIAVT is honored to be able to help students pursue their ambitions of an education in architecture.
AIAVT members can sign up to take part in the Pella + Purpose program in 2023 by contacting Jeff Stetter, AIA, directly at jstetter@ pellasales.com. Jeff shared, "I'd like to thank all of the Architects and Designers that participated in the Pella + Purpose Program this year. Through their efforts, Pella Windows can make this contribution to the Scholarship Fund. If you've missed the opportunity in 2022 I would encourage you to look out for announcements for this year's program."