2006 AIAVT Excellence in Architecture Design Awards
To see the published Entry Requirements, download the 2006 Design Awards Call for Entries.
Bread Loaf Corporation
Honor Award: "Bridge Houses" at Landmark College in Putney, Vermont
The Jury thought that the project was "well integrated with the landscape". "The plan was very strong, clean and simple" and the "execution and selection of materials are superb".
This Honor Award was for a project that represents exceptional value beyond a single category and is worthy of special recognition.
John Anderson Studio
Citation: Private Residence, Waltham, Vermont
The Jury recognized this submission in the category for an Older Private Project. They commented that "early sustainability sustains" and this project represented a new direction in the "80's. " The bold and recognizable silhouette remains integrated."
Dore & Whittier Architects
Merit Award: Clinton Elementary School in Clinton, Massachusetts.
The Jury thought that this project clearly stated "it is a public building for kids." "The interior spaces have comfortable scale and attractive colors." "The over-all scale is very effective."
Recent Public Project category.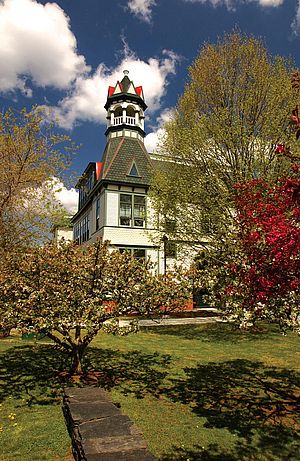 Truex Cullins & Partners
Merit Award: Debevoise Hall at The Vermont Law School
The Jury thought that this has "spectacular color inside and out" and that the "integration of furniture to the interior is spectacular". They also commented that this project was "carefully thought out."
Historic Renovation Category.
The Jury
The Jury was a distinguished panel of Architects from AIA Connecticut, Barbara L. Geddis, FAIA, Glenn Gregg, FAIA, and James R. Martin, AIA, CTAIA Design Chair.