2011 AIAVT Excellence in Architecture Design Awards
LineSync Architecture of Wilmington
Cattail Cottage, Lake Bomoseen, Hubbarton

Honor Award
The jury described this as a simple, imaginative solution within the constraints of the existing small house plan. There were few opportunities given the site and setting. The end result is quite wonderful - one main gesture, attention to detail and sustainable. The original house plan was maximized and improved by this intervention.
Birdseye Design of Richmond
Private Residence, Shelburne
Merit Award
The jury praised the nicely detailed building with its good proportions and excellent use of materials. The project demonstrates textural material use and excellent craftsmanship. It is integrated well with the outdoors, bringing the landscape into its envelope.
The Jury described this project as nicely scaled with a varied exterior and excellent use of materials, resulting in an elevation with rhythm and nice composition. The complex is anchored at its corners by large volumes and is inventive in form and its use of color. It's playful with warm interior spaces within a constrained project development.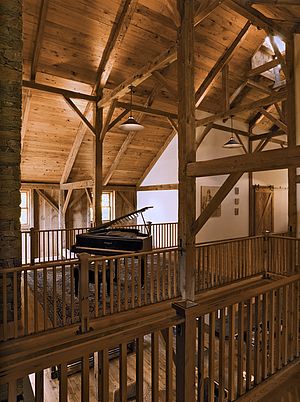 Birdseye Design of Richmond
Musician's Retreat in Waitsfield

Honorable Citation
The jury commended this adaptive reuse project with its simple floor plan and natural palette. The project shows a restrained hand and careful intervention, cautiously handled and well thought out in keeping with the spirit of the original.
Duncan Wisniewski Architecture of Burlington
Hickory Street in Rutland
Honorable Citation for Public Housing – Urban Planning
The jury said this project added organization to development. There is a sense of hierarchy with primary and secondary avenue spaces and outdoor spaces. It created a more successful urban scale solution with smaller structures and simpler shapes at human scale.